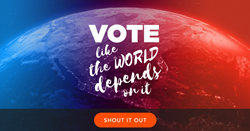 Whether it's climate action, eradicating extreme poverty, or fighting for equality, the next U.S. President will shape the collective legacy of the millennial generation
Washington, DC (PRWEB) September 12, 2016
Today, the Better World Campaign is launching a non-partisan social media campaign aimed at younger voters, urging them to vote in the upcoming election and share with their peers the importance of heading to the polls. Data shows that millennials are now tied with Baby Boomers as the biggest voting bloc in the country, but only 20 percent of millennials actually cast a ballot in the 2014 election. The new campaign is aimed at globally-minded young Americans who recognize the important role the U.S. plays in shaping the world's future.
"The United States is a tremendous force for good in addressing global challenges that concern millennials, and continued American leadership on the global stage remains vital," said Peter Yeo, vice president at the United Nations Foundation and president of the Better World Campaign. "Whether it's climate action, eradicating extreme poverty, or fighting for equality, the next U.S. President will shape the collective legacy of the millennial generation."
The non-partisan campaign is titled "Vote Like the World Depends on It" and focuses on six global issues:

U.S. Leadership in the World
Climate Action
Empowering Girls and Women
Fighting Extreme Poverty
Peace and Justice
Children's Health
Millennials across the country will be encouraged to spread the message via Facebook, Instagram, and Twitter. Campaign materials promote the hashtag #VoteFTW which stands for "Vote for the World," in a play on the popular expression "FTW" or "For the Win."
Campaign materials are free to use and share and can be found online at: VoteFTW.org.