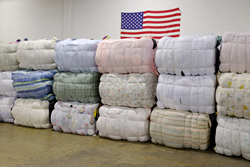 Elkridge, Maryland (PRWEB) September 12, 2016
Planet Aid announced today that it received three tons of bedding and clothing from the Trash-to-Treasure student recycling group at Northeastern University in Boston, Massachusetts. Planet Aid responded by sending five trucks to haul away the substantial volume of material.
"We are happy to work with T2T in diverting unwanted textiles from the waste stream," said Keith Gregory, Planet Aid's Local Operations Manager for the Boston area. "Every year, a tremendous amount of waste is generated after students leave campus all across the nation, and T2T is doing a great job in collecting and recycling tons of material that would otherwise head to the landfill."
T2T also held a silent auction and a large on-campus sale of items that it had collected at the end of the year. The items sold ranged from hangers to televisions. The profits from the sale will be divided among student groups. The sales event was featured in the independent student newspaper, The Hunt News.
Planet Aid regularly accepts clothing and textiles through its network of yellow donation bins and via pre-arranged pickups for larger quantities of material. The organization then sells these donations and uses the proceeds to support sustainable international development projects in the world's poorest communities.
About Planet Aid
Planet Aid is a U.S. 501 (c)(3) nonprofit and is registered with USAID as a private voluntary organization. Accredited by the Better Business Bureau's Wise Giving Alliance, Planet Aid collects and recycles used clothing and shoes as part of its environmental mission. The net proceeds from its 21-state recycling operation help to support projects aimed at eliminating poverty. Since its inception in 1997, Planet Aid has provided more than $100 million to support projects on three continents. Planet Aid supports programs in education, teacher training, nutrition and agricultural and economic development.