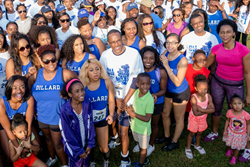 New Orleans, LA (PRWEB) September 12, 2016
UNCF to Host New Orleans Walk for Education Oct. 8
WHAT: The local New Orleans office of UNCF will host its 2016 5K Walk for Education. More than 2,000 people are expected to attend the fundraising event, benefitting deserving students and UNCF's member institutions. Thanh Truong, a news anchor at WWL-TV, and Caresse Jackman, a reporter at the station, will serve as the emcees. Last year's walk raised nearly $80,000 to help provide students with resources to get to and through college successfully. This year's sponsors include WWL-TV, Audubon Nature Institute and Shell.
WHO: UNCF (United Negro College Fund)
WHEN: Registration starts at 7:30 a.m. Walk will be from 8:30 a.m. to 12 p.m.,
Saturday, Oct. 8.
WHERE: Audubon Park Riverview
INFO: The community is encouraged to participate to help inspire and empower the next generation of leaders. To register or more information, visit UNCF.org/NewOrleanswalk.
Follow this event on social media: @uncf_nola @uncfnola #laceup4UNCF
About UNCF
UNCF (United Negro College Fund) is the nation's largest and most effective minority education organization. To serve youth, the community and the nation, UNCF supports students' education and development through scholarships and other programs, strengthens its 37 member colleges and universities, and advocates for the importance of minority education and college readiness. UNCF institutions and other historically black colleges and universities are highly effective, awarding nearly 20 percent of African American baccalaureate degrees. UNCF awards more than $100 million in scholarships annually and administers more than 400 programs, including scholarship, internship and fellowship, mentoring, summer enrichment, and curriculum and faculty development programs. Today, UNCF supports more than 60,000 students at more than 1,100 colleges and universities across the country. Its logo features the UNCF torch of leadership in education and its widely recognized motto, "A mind is a terrible thing to waste."® Learn more at UNCF.org, or for continuous updates and news, follow UNCF on Twitter at @UNCF