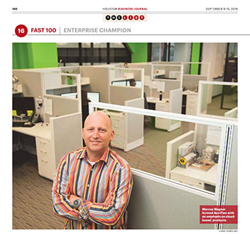 AcctTwo was ranked the 16th fastest growing company in Houston.
Houston, TX (PRWEB) September 13, 2016
AcctTwo, a leading consulting firm and provider of cloud-based ERP and Business-Process-as-a-Services solutions, announced today that it was ranked the 16th fastest growing company in Houston, according to the Houston Business Journal's Fast 100 list of the fastest-growing companies headquartered in the Houston area. This list is comprised of companies across multiple industries who have shown outstanding revenue growth between 2013 and 2015.
With customers in more than 35 states nationwide as well as a growing international presence, and with employees in Houston, Dallas, and Austin, AcctTwo has built a presence and focus that goes well beyond Houston and Texas. The firm's headquarters and its roots, however, are firmly part of the Houston community.
AcctTwo provides on-demand ERP software and business-process-as-a-service (BPaaS) outsourcing for midmarket companies and nonprofits. The firm has particular expertise in the Energy and Industrial, Nonprofit and Faith-Based, and Software industries, all of which are very well represented in the Houston area.
In addition to its spot on the Fast 100, AcctTwo has been named one of the Houston Business Journal's Enterprise Champions for 2016. These four Houston companies were chosen by a panel of judges for demonstrating outstanding innovation, corporate culture and community service, in addition to thriving in revenue growth.
"We're so excited to make the Fast 100 list again," said Marcus Wagner, Founder and CEO of AcctTwo. "I'm so proud of the continued growth that my team has managed over the past five years. Houston is the 4th largest city in the U.S., and is projected to surpass Chicago for the No. 3 spot in the next ten years. This is such an exciting time to do business in Houston, and we're thrilled to be a part of that amazing growth!"
To read the Houston Business Journal's post announcing the Fast 100 and Enterprise Champions lists, and to see the other companies on the list, click here.
If you have any questions about how Intacct's best-in-class ERP solutions or AcctTwo's BPaaS services can add strategic value to your organization, please visit the contact page to start the conversation.
About AcctTwo:
AcctTwo is a leading consulting firm and reseller of cloud-based accounting and ERP software. Our sophisticated systems solve the issues growing middle market companies face today. AcctTwo also provides Business-Process-as-a-Service solutions, allowing clients to focus on the core competencies of their business. We provide the people, processes, technology, and office facilities to perform these functions, while allowing clients to collaborate interactively through an on-line portal.
AcctTwo is headquartered in Houston, Texas. For more information, please visit http://www.accttwo.com or call 713-744-8400.
Contacts:
Peter Wagner
Director of Marketing
Cell: 512.415.6846
Email: pwagner(at)accttwo(dot)com
Chris Wailes
VP, National Media Relations
Pierpont Communications
Direct: 713.627.2223
Email: cwailes(at)piercom(dot)com