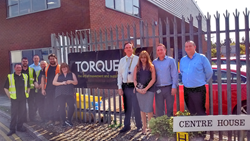 "Torque is a valued strategic partner of Mountain Warehouse that has supported our business to grow by over 700% over seven years. I would like to congratulate Torque on their achievements and wish them continued success."
Leeds (PRWEB UK) 15 September 2016
Torque Logistics, one of the UK's most innovative and experienced supply chain logistics operators, celebrates its 25 year this week with a road show of anniversary events across Torque sites to mark the milestone.
"The events are our way of saying thank you to employees for the contribution; we recognise that without their support we wouldn't be where we are today", said Stewart Firth, Head of Operations at Torque.
Torque has grown incredibly since it opened its doors as Elite Group in 1991, with a single site in Bramley, Leeds, into a multi-million pound company, now boasting seven sites throughout the country.
The company was founded in 1991 and employed 3 people. Fast forward to 2016 and Torque has blossomed into one of the UK's largest logistics operators, employing over 1000 people and managing over 1.8 million sq. ft. of warehouse space.
Over 25 years, Torque has built on its client portfolio adding numerous retail brands, many of whom have come to Torque on the back of word-of-mouth recommendation. This year three of Torque's clients: Mountain Warehouse, Sweaty Betty and Berwin & Berwin received the accolade of being listed in the Sunday Times' top 200 UK companies with fastest-growing international sales.
Mark Neale, Managing Director at Mountain Warehouse, offered his congratulations to Torque for reaching this important 25 year milestone, and describes how influential Torque has been in supporting Mountain Warehouse to achieve its growth ambitions: "Torque is a valued strategic partner of Mountain Warehouse that has supported our business to grow by over 700% over seven years. I would like to congratulate Torque on their achievements and wish them continued success."
Stewart Firth explains how he thinks Torque's impressive growth stems from listening to customers and employee retention: "Customers requirements are constantly evolving and at Torque we pride ourselves in being agile and proactively supporting those needs. In addition, we employ talented teams that are specialists in their field and can offer value-add for our customers."
With 25 years of delivering logistics excellence under their belt, it is clear that Torque has a bright future ahead. The company continues to invest heavily in more traditional services like warehousing, transport, distribution, freight and pick and packing services; whilst at the same time future proofing their offering by enhancing routes to market for their customers through e-commerce, cost-effective returns management, and refurbishing stock in their technical centres.
Torque is proud to be marking its 25 year. The confidence of Torque's customers in the service Torque provides and the can-do attitude of the workforce leaves no doubt that they will continue to deliver logistics excellence at a level that is second to none.
For more information about Torque visit http://www.torque.eu