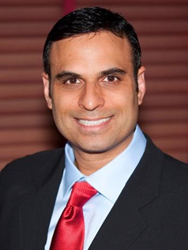 Oak Brook, IL (PRWEB) September 12, 2016
Dr. Amarik Singh is an accomplished Midwest periodontist located in Oak Brook, IL, who will speak at the Progressive Dental Catalyst CE Course on practice growth and dental marketing techniques on September 16-17, 2016 in Las Vegas, NV. Dr. Singh will discuss topics designed to help dental and periodontal practices attract more patients and increase treatment plan acceptance. In addition to being an accomplished speaker, Dr. Singh also offers the latest dental and periodontal treatments, including dental implants, the Chao Pinhole® Surgical Technique and laser dentistry procedures.
Dr. Singh is a respected periodontist in Oak Brook, IL, who takes pride in investing in the latest trainings and technology to add value to each patient who visits his practice. He is proud to impart some of his knowledge to fellow periodontal and dental professionals who wish to learn how to expand their practices. Dr. Singh also takes pride in providing patients with state-of-the-art services and treatments, including dental implants, All-on-4® implant-supported dentures, the Chao Pinhole® Surgical Technique for gum recession and laser dentistry to treat periodontal disease.
Patients with missing teeth have the option of receiving traditional replacement options such as partials, dental bridges and traditional dentures, but implants are a convenient and durable alternative to traditional procedures. Although dental implant procedures cannot be performed in every case of missing teeth, they are often recommended for adults who have sufficient jaw bone density or who are good candidates for bone grafting procedures. Replacing a missing tooth with a dental implant as soon as possible can help prevent the bone loss that occurs in the jaw due to lack of stimulation by a tooth root. Once a dental implant is successfully placed and fully healed, it functions like a natural tooth and offers immediate esthetic appeal.
Patients in search of a leading periodontist in Oak Brook, IL who is experienced in the placement of dental implants are encouraged to meet with Dr. Singh. New patients may call 630-424-9404 to schedule a personalized consultation.
About the Doctor
Periodontal Implant Associates is a periodontal practice offering personalized dental care for patients in Oak Brook, IL and the Chicago area. After graduating from Northwestern University Dental School, Dr. Amarik Singh went on to obtain his Specialty Certificate in Periodontics and earn his Master's from Northwestern University. Dr. Singh is deeply committed to continuing education and prides himself on remaining on the cutting-edge of the newest techniques and technology in dentistry. Dr. Singh has placed over 15,000 dental implants using a minimally-invasive technique and is part of an elite group of dental professionals at the forefront of the Chao Pinhole® Surgical Technique (PST™), a revolutionary new approach to repairing gum recession. To learn more about the periodontal services available at Periodontal Implant Associates, please visit http://www.pidentists.com or call (630) 424-9404.