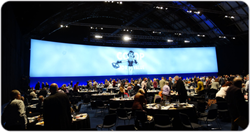 With 700 people attending both the AGM and brand relaunch, the 2016 event was a big step up.
Wokingham, UK (PRWEB) September 12, 2016
A huge display featuring Christie award-winning Boxer 4K30 projectors was the impressive visual centrepiece of the Co-op's AGM in Manchester. Spanning 55 meters in width and 8 meters in height and delivering stunning HD images and video during the event, the curved display was designed and installed by AtoV, an integration company specializing in live events.
The 2016 Co-op AGM was a particularly special occasion as it saw the launch of their brand identity including a revamp for its traditional logo as they go 'Back to being Co-op.' The event bought together 700 members from across the organization's various business areas, and was held in Manchester's vast Central Station conference center (MCR Central). AtoV has a long-standing relationship with the Co-op, and Jim Hadfield, one of the company's engineers, has been working on the Co-op's AGMs for eighteen years. As he relates, for the 2016 event, something special was needed in terms of display, and only projection could deliver.
"With 700 people attending both the AGM and brand relaunch, the 2016 event was a big step up. The brief was to create a high impact event that could function as a traditional AGM and all that entails, while also catering for the brand relaunch and its requirement for spectacular visuals – without the need for any time consuming set change," said Hadfield. "MCR Central is massive and we were quickly drawn to the idea of a projection installation, as it was the only technology capable of creating a display of this size. Furthermore, we only had a twenty-four hour build up period, and taking everything into account, quickly realized that Christie Boxer had everything we needed – lightweight, high-performance in all the right areas, as well as the reliability you need with a high profile event. It was a high pressure project but it was worth it – and with the help of Boxer, the results were spectacular."
MCR Central is an old train station that has a ceiling arch of 88 feet at its highest point and is 199 feet wide, and in the area that Co-op was using, 197 feet front to back. AtoV had just 24 hours build up time, which would have to include all the image blending and warping necessary for a 180 foot by 16-foot projection area. In addition, a long throw of 180 feet meant that the projector showed little or no thermal drift and a very precise lens mounting. Boxer fitted the bill perfectly and due to its wider aspect ratio (1.89:1) AtoV only needed eight Boxers in four stacks of two to cover the screen with 240,000 lumens.
About Christie
Christie Digital Systems USA, Inc. is a global visual and audio technologies company and is a wholly-owned subsidiary of Ushio, Inc., Japan, (JP:6925). Consistently setting the standards by being the first to market some of the world's most advanced projectors and complete system displays, Christie is recognized as one of the most innovative visual technology companies in the world. From retail displays to Hollywood, mission critical command centres to classrooms and training simulators, Christie display solutions and projectors capture the attention of audiences around the world with dynamic and stunning images. http://www.christiedigital.com.
Follow Christie:
twitter.com/christiedigital
twitter.com/christievive
http://www.facebook.com/christiedigital/
http://www.linkedin.com/company/christie-digital-systems
youtube.com/christiedigital
instagram.com/christiedigital/
vimeo.com/christiedigital
"Christie" is a trademark of Christie Digital Systems USA, Inc., registered in the United States of America and certain other countries.