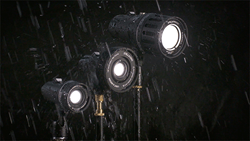 As soon as we saw the range of Stella products, we knew we could do unbelievable things together.
North White Plains, NY (PRWEB) September 12, 2016
MAC Group is pleased to announce a new U.S. distribution agreement with California-based Light & Motion for their line of Stella Single-Point LED lights and lighting kits.
The Stella family establishes a new standard for broadcast, cinema, and photo lighting. Single-Point LEDs (spLEDs), regarded for their reliable design and commanding output/size ratio, are displacing traditional technology as the definitive solution for demanding professionals. Light & Motion is leading the charge as the premiere option in this rapidly expanding category. MAC Group is elated about the new partnership assured that Stella lights are changing the game for content creators everywhere.
"As soon as we saw the range of Stella products, we knew we could do unbelievable things together," asserts Jan Lederman, MAC Group President. "These lights will definitely exceed the expectations of filmmakers and photographers."
Engineered and Manufactured in California
Innovative Light & Motion brings a sophisticated approach to on-camera lighting. All Stella lights are engineered and manufactured out of a vertically integrated California facility. The domestic approach allows the brand to continually elevate spLED technology to unparalleled levels while promptly responding to imaging advancements with cutting-edge design. This has caused ripples in the on-camera lighting genre as the Stella family represents the most compact, portable, powerful, robust professional lights available. The MAC Group alignment is set to solidify Light & Motion as the leaders of spLED lighting.
"We are proud to join with MAC Group and envision great success with the new partnership," proclaims Light & Motion CEO Daniel Emerson. "Their excellent reputation in the stills and motion market will ensure that cinema, photo, and broadcast professionals will have great access to the Stella line and receive excellent support and service through premium dealers and rental houses nationwide."
Broad Range of Lighting Options
Light & Motion's Stella line provides a broad range of options to accommodate the needs of image-makers of various disciplines. On-location shooters appreciate the ultra-powerful, rechargeable, battery-powered units that can be setup in seconds and be used in any weather condition. Studios are realizing the creative possibilities of these lights as well as a corded option that fits in the palm of a hand yet rivals the light output of HMI units. Light & Motion also manufactures two drone specific lights that are poised to ultimately change the nature of aerial filming in low-light situations.
Featuring Chip on Board "COB" Array
Every Stella light features a Chip on Board "COB" array that provides a smooth, evenly dispersed, 120-degree native beam with high CRI and TLCI ratings of 90+ and 93 respectively providing cinema-quality, flicker-free, and artifact-free light output. A broad range of mounting options and lighting modifiers are available including barn doors, a 50° focus optic, 25° degree fresnel, speed ring/gel holder, and Glo Bulb. Popular modifiers/accessories are also supported with compatibility for Profoto OCF, Chimera, and Elinchrom (coming soon).
Tested and Certified
Stella reliability is tested and certified in accordance with the ANSI/NEMA FL-1 Standard. Light & Motion is the first in the industry to certify their lights in this way. Content creators can buy with absolute confidence knowing that Stella lights deliver what they claim with precise details about the lumen output, color temperature, CRI, TLCI, and FLUX rating.
MAC Group's team for Stella by Light & Motion includes Will Holowka, Lighting Group Product Manager, Jeff Lazell, Lighting Group Marketing Manager and Wayne Schulman, Technical Sales Manager. Each brings a degree of talent, passion and experience that is unsurpassed in the industry.
About Light & Motion: Beyond bright, Light & Motion is Powerful, delivering remarkable output from some of the most innovative, lightweight lights on the market, lights that deliver certified high TLCI and high CRI in a daylight or Tungsten balanced head. Light & Motion is Portable, making the most compact easy-to-use lights in the industry. Light & Motion is Progressive, one of the few lighting brands to design and build our products in the USA and the only brand to certify our products to the rigorous FL-1 Standard. Light & Motion products come with a 2-year enhanced guarantee. Light & Motion has been recognized for our pioneering business practices and a smart carbon footprint through numerous environmental awards, including the US Commerce & Trade Research Institute's 2015 California Excellence Award recipient. For additional information, please contact Heidi Hall at HHall(at)LightandMotion(dot)com or 831-645-1538 or visit lightandmotion.com
About MAC Group: MAC Group is a sales, marketing, and distribution company dedicated to supplying passionate photographers, videographers, educators and students with the world's finest image-making tools, education and inspiration. MAC Group represents brands across 3 categories: Tripods, Bags and Filters; Lighting and Grip; Photo and Video Accessories.