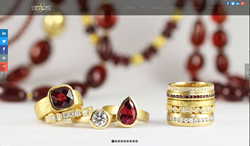 San Francisco, CA (PRWEB) September 12, 2016
Union Street Goldsmith has recently launched its new website to enhance the online jewelry shopping experience for both women and men. The new site aims to assist interested customers in finding the jewelry pieces and wedding selections they need, right from a computer or mobile device.
The new website is mobile-friendly and easily accessible on smartphones or other devices. The site's beautiful design makes for easy user navigation because the gorgeous images of necklaces, rings, bracelets, and collections help users to get a sense of what the store has to offer.
Users can quickly find the new location with the map on the contact page of the website. To keep customers informed about upcoming events and designer trunk shows, users will be directed to the events page on the website. Links to Union Street Goldsmith's social media pages are also easily displayed on all pages of the site to make for a favorable user experience.
Since certain customers prefer different shopping experiences, the store serves as a brick-and-mortar location where customers can see the latest inventory in person. Union Street is lined with other popular shopping destinations and restaurants.
Customers can get ideas from the images of the jewelry pieces on the website and then choose to come into the store to learn more or make a purchase. The in-store collections feature a wide range of styles, including bangles and pearls, wedding bands, engagement rings, 24k gold, silver and much more.
For more information, please visit the company's website: http://www.unionstreetgoldsmith.com.
About Union Street Goldsmith:
Union Street Goldsmith has been a San Francisco landmark for 40 years, offering excellent quality and creative jewelry. This special shop with its friendly staff is welcoming and unpretentious. The Union Street staff consists of six GIA gemologists who are able to help shoppers in a variety of ways when it comes to gems and jewelry. Union Street Goldsmith is known for amazing jewelry designs, fine colored gemstones, and unique engagement and wedding rings. An excellent sense of style and fashion gives Union Street Goldsmith the ability to offer valuable guidance to clients in their jewelry selection, helping each one to create an overall special look within their collection.