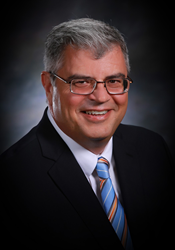 John is a tremendous addition to our team. His vast amount of coastal experience is a perfect accompaniment to our team of coastal engineers and coastal surveying and environmental professionals.
Lafayette, LA (PRWEB) September 12, 2016
John D. Foret, Ph.D. recently joined C.H. Fenstermaker & Associates, L.L.C. as Environmental Operations Leader. Dr. Foret has decades of experience in the coastal regions of Louisiana, most recently as a Research Fisheries Biologist for the Department of Conservation (DOC), National Oceanic Atmospheric Administration (NOAA) and National Marine Fisheries Service (NMFS).
Fenstermaker Senior Vice President, R. J. Boutte, Jr. says, "John is a tremendous addition to our team. His vast amount of coastal experience is a perfect accompaniment to our team of coastal engineers and coastal surveying and environmental professionals. In the past, we have worked with John on several projects and are now very excited to have him on our team as we work with state agencies, parishes, local communities, landowners, and all stakeholders to protect and restore our valuable coast."
Dr. Foret says, "I'm looking forward to bringing my coastal restoration experience to compliment the expertise of the Fenstermaker Environmental Division. Our goal is to assist the residents of Louisiana to design, construct, and monitor a sustainable coastal ecosystem."
Dr. Foret served as Research Fisheries Biologist with DOC/NOAA/NMFS Galveston Laboratory from 1998 to 2016 and was Team Leader within the Fishery Ecology Branch in Lafayette, LA. He coordinated all activities associated with the Coastal Wetlands Planning, Protection, and Restoration Act (CWPPRA) relating to coastal fisheries habitat restoration for the NMFS in southwest Louisiana.
As Federal Project Manager of CWPPRA projects, Dr. Foret was responsible for proposed project site evaluation, formulating and developing a restoration plan, developing a cost estimate for the proposed restoration plan, overseeing project budget, project design, implementation, inspection, evaluation of contractor efforts, and post-construction biological and engineering monitoring.
Dr. Foret has managed numerous coastal projects simultaneously and has worked in partnership with the State of Louisiana and many agencies including the U.S. Army Corps of Engineers, U.S. Fish and Wildlife Service, Environmental Protection Agency, and U.S.D.A. and Natural Resource Conservation Service. His project portfolio includes Black Bayou Hydrologic Restoration, Big Island Mining, Atchafalaya Sediment Delivery, Four-Mile Canal Terracing and Sediment Trapping, Little Vermilion Bay Sediment Trapping, Sediment Trapping at The Jaws, Pecan Island Terracing, Little Lake Shoreline Protection/Dedicated Dredging –Round Lake, Lake Chapeau Sediment Input and Hydrologic Restoration at Point au Fer Canal Plugs, Rockefeller Refuge Gulf Shoreline Stabilization, Oyster Bayou Marsh Restoration, Cole's Bayou Marsh Restoration, Cameron Meadows Marsh Creation and Terracing, No Name Bayou Marsh Creation, Shoreline Protection, Preservation and Restoration (SPPR) Panel, Bio-Engineered Oyster Reef, and Oyster Lake Marsh Creation and Nourishment. For these important coastal projects, Dr. Foret coordinated National Environmental Policy Act (NEPA) compliance reports, which included assessments of the biological requirements of managed or protected marine species, individual project engineering and biological monitoring plan development.
In April of 2010, Dr. Foret was asked by the NOAA Fisheries Southeast Fisheries Science Center Director to serve as the NMFS science point of contact at the Houma Incident Command Post (HICP) following the DEEPWATER HORIZON disaster. He served in that capacity for 84 days, of the 154 potential days that the HICP was operational. Dr. Foret provided scientific support with all responding branches within the HICP while maintaining open communications with Galveston, the SEFSC leadership, and NOAA leadership on all issues related to the source, NOAA trust resources, and seafood safety.
In 1994, Dr. Foret earned a B.S. in Aquatic and Fisheries Biology from the University of Louisiana (UL), in Lafayette, LA. He went on to earn an M.S. degree in Biology from UL in 1997. His thesis was "Accretion, Sedimentation, and Nutrient Accumulation Rates as Influenced by Manipulations in Marsh Hydrology in the Chenier Plain, Louisiana."
Continuing on his academic journey at UL, Dr. Foret earned a Ph.D. in Environmental and Evolutionary Biology in 2001. His dissertation was entitled, "Nutrient Limitation of Tidal Marshes on the Chenier Plain, Louisiana."