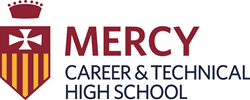 Philadelphia, PA (PRWEB) September 15, 2016
Mercy Career & Technical High School (Mercy CTE) today announced the school's complete rebranding and new tagline, "Forging Futures with Faith and Focus," with a Blessing Ceremony and festive student-led Pep Rally. Formerly known as Mercy Vocational High School, the new name and branding embody a modern approach to the school's time-honored traditions of nurturing young hearts and minds, through faith-based education, to thrive in the workplace, build vibrant families and positively influence local communities.
"Since 1950, Mercy CTE has offered students an education that goes beyond traditional academics and emphasizes life-long learning and lifetime value for graduates," said Sister Rosemary Herron, RSM, president of Mercy Career & Technical High School. "Today, we empower young hearts and minds to achieve the American dream, preparing students for successful careers in business, building trades, computer technology, cosmetology, culinary arts, healthcare and beyond. Thanks to our wonderful students and faculty, we are proud that 97 percent of our students graduate with a clear career or continuing education path."
Mercy CTE is the only Catholic co-ed career and technical high school in the country. In a faith-based educational environment, Mercy CTE teaches students the value of serving their community and recognizing the value of every individual, regardless of religion, ethnicity or economic status. Students have the opportunity to not only receive their high school diploma, but also to earn state licenses or industry recognized certifications necessary to enter the workforce immediately.
Mercy CTE serves an economically, ethnically and geographically diverse population of approximately 350 students from 55 different zip codes. Mercy CTE provides a safe and supportive environment where all students and faculty are members of the Mercy family. The school has a 99 percent graduation rate and a 97 percent daily attendance rate, and since 1998, Mercy CTE has received more post-secondary scholarships than any other vocational high school in Pennsylvania.
About Mercy Career & Technical High School
Mercy Career & Technical High School (Mercy CTE) provides an immersive, project-based education to prepare students for what's next, whether it be entering the workforce to start a career or continuing their education after graduation. Founded in 1950, the school is deeply rooted in the Catholic faith and the mission of the Sisters of Mercy, backed by a legacy of proven success. Mercy CTE prepares students for rewarding careers and instills life-long value for its graduates. Nurturing and empowering the whole individual, Mercy CTE opens doors and creates opportunities, providing contemporary job options and a non-traditional path to higher education.