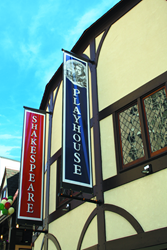 "We are delighted to host the Ben Jonson First Folio Quadricentennial Conference this September, and we look forward to participating in the invigorating discussion about Jonson that this conference will engender." - Jeff Watkins, Artistic Director
Atlanta, Georgia (PRWEB) September 14, 2016
The Atlanta Shakespeare Company will join the Resurgens Theatre Company and the University of North Georgia to host scholars from around the country at the Shakespeare Tavern Playhouse on September 23 and 24, 2016 for the Ben Jonson First Folio Quadricentennial Conference. The conference will also include evening performances of "The Alchemist" and "Volpone" presented by the Resurgens Theatre Company.
ASC is delighted to host this conference as an extension of the partnership between ASC, the University of North Georgia, and the Resurgens Theatre Company, which is led by UNG professor Dr. Brent Griffin. The partnership, established in 2014, gives Resurgens the opportunity to perform at the Shakespeare Tavern Playhouse and provides a cross-disciplinary opportunity for UNG students and ASC staff to pursue academic and artistic investigation into the language and the performance history of the plays of Shakespeare and his contemporaries. Both ASC and Resurgens employ varying original practices, which involve active exploration of Elizabethan and Jacobean stagecraft and acting techniques. Through the partnership, ASC artists including Laura Cole, Director of Education and Training, occasionally visit UNG classes as guest lecturers, allowing UNG students to learn more about ASC's theatrical practices. Laura Cole commented on ASC's opportunity to host the Ben Jonson First Folio Quadricenntial Conference: "ASC and the ASC Education department are so pleased to be participating at this conference and for the opportunity to meet the extraordinary group of scholars and experts who will be attending. It is very important for artists involved in early modern production practices to understand in-depth what Shakespeare and his contemporaries like Ben Jonson were doing, producing and writing during such a fertile time in theatre production. We look forward to learning even more about Shakespeare's comrade and his works!"
About the Atlanta Shakespeare Company at the Shakespeare Tavern Playhouse
The Atlanta Shakespeare Company's Education programs provide opportunities for students, educators, and parents throughout Georgia and the Southeast to experience the power of Shakespeare's language and dramatic vision through active participation and performance using dynamic, language-based methods. ASC Education serves students from K-12 grades in fifty-four Georgia counties and six southern states with matinees in Atlanta, touring productions, workshops, residencies and other classroom programs as well as offering professional training to emerging artists at the Shakespeare Tavern Playhouse. The Shakespeare Tavern Playhouse is Atlanta's only professional Equity theater company producing the works of William Shakespeare and select classic modern plays throughout the year, in an Elizabethan, Globe-inspired playhouse on Peachtree Street in downtown Atlanta, Georgia. This past year the Atlanta Shakespeare Company reached a total of over 20,000 students and 30,000 adults.
If you would like more information about this topic, please contact Samantha Smith at 404-874-5299 x 54 or email at samantha(at)shakespearetavern(dot)com.