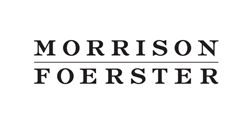 San Francisco, CA (PRWEB) September 13, 2016
Law360 has included Morrison & Foerster among its Litigation Powerhouses, an inaugural list of 50 firms that were chosen by examining the size of the firm's litigation teams and the outstanding victories those teams netted between March 1, 2015, and March 1, 2016. Among other things, the report showcases "historic, precedent-setting wins in class action litigation," "jaw-dropping jury verdicts in courts across the country," "victories in the smartphone wars," and "dramatic upsets on appeal."
Morrison & Foerster is ranked 15th on the list, with Law360 highlighting several significant matters for its clients.
"We're honored to be recognized as one of the top litigation firms in the country," Ben Fox, co-chair of Morrison & Foerster's Litigation Department, said. "Understanding our clients' needs and helping them with their most difficult legal issues are our top priorities. This recognition demonstrates the respect that the firm has earned for the superb service and results that we consistently deliver for our clients."
Law360 also noted the strategic expansion of the firm's litigation group, including adding Securities Litigation, Enforcement and White-Collar Defense Practice partners Carrie Cohen, James Koukios and Chuck Duross over recent years, and expansion of the firm's Government Contracts and Public Procurement practice with the addition of eight new partners in April 2016.
In addition to showcasing the firm's litigation victories, Law360 wrote: "With a remarkable record of trial and appellate successes, the firm's litigators are even more remarkably free of ego. They describe an environment where collaboration trumps competition, where egos take a back seat to client service and where law is a profession first and a business second."
About MoFo
We are Morrison & Foerster — a global firm of exceptional credentials. Our clients include some of the largest financial institutions, investment banks, Fortune 100, and technology and life sciences companies. The Financial Times has named the firm to its lists of most innovative law firms in North America and Asia every year that it has published its Innovative Lawyers Reports in those regions. In the past few years, Chambers USA has honored MoFo's Bankruptcy and IP teams with Firm of the Year awards, the Corporate/M&A team with a client service award, and the firm as a whole as Global USA Firm of the Year. Our lawyers are committed to achieving innovative and business-minded results for our clients, while preserving the differences that make us stronger.