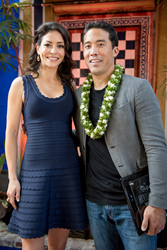 Los Angeles, CA (PRWEB) September 14, 2016
The 2016 Fluffball ™, hosted by actress Emmanuelle Vaugier (Mistresses, Two and a Half Men, Saw, Lost Girl), will be held at The Little Door on Saturday, November 12, 2016. This exclusive charity event aims to raise money for The Animal Hope and Wellness Foundation, a non-profit organization that rescues and rehabilitates animals that are victims of extreme abuse.
The Animal Hope and Wellness Foundation's founder Marc Ching has been working tirelessly across Asia to save dogs from the meat trade industry. Other celebrities such as Matt Damon, Rooney Mara and Kristen Bell have teamed up with Marc as part of the Compassion Project to educate the public about the torture these animals often endure.
This year's event will build off the success of previous Fluffball ™ events and marks the second consecutive year that The Animal Hope and Wellness Foundation has been the beneficiary.
The 2016 Fluffball will be held on Saturday, November 12th from 12 p.m. – 3 p.m. at The Little Door, 8164 W 3rd St, Los Angeles, CA 90048. The guest list includes 200 celebrity and VIP guests, and offers a limited number of tickets for sale to the public. Past notable attendees have included Lori Loughlin, Anna Faris, Elisabeth Shue and Alyssa Milano.
Invited celebrity attendees include: Perrey Reeves, Entourage; Rachelle Lefevre, Twilight, Under the Dome; Kristin Bauer, True Blood; Anna Silk, Lost Girl; Ivan Sergei, The Break-Up; Jason Gray-Stanford, Monk, A Beautiful Mind; Robert Schwartzman, musician, The Princess Diaries, The Virgin Suicides; and Lori Loughlin, 90210, Full House.
The 2016 Fluffball will showcase a variety of sponsors, including: Lombardi House (The Fluffball's official hotel sponsor), Tito's Handmade Vodka, Moet and Chandon, KIND Snacks, Carmex, and Cycle House.
For more information visit http://www.thefluffball.com
About The Animal Hope and Wellness Foundation
The Animal Hope and Wellness Foundation is a non-profit organization focused on rescuing and rehabilitating abused animals. They specialize in saving animals from abuse situations, and then work to find them perfect homes.
About Emmanuelle Vaugier
Emmanuelle Vaugier is a Canadian-born actress who has made a splash on both the big screen and prime-time TV. Vaugier is best known for her popular role as Charlie Sheen's ex-fiancé Mia on the award-winning CBS comedy Two and a Half Men. For three seasons she also played Detective Jessica Angell on CSI NY.