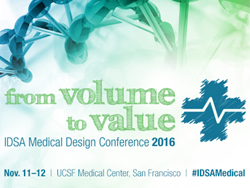 "It's an exciting time to be a designer in healthcare; our profession will play a pivotal role."
San Francisco, CA (PRWEB) September 20, 2016
The Industrial Designers Society of America (IDSA)'s third annual Medical Design Conference: From Volume to Value will be held Nov. 11-12, 2016 at the new University of California-San Francisco (UCSF) Medical Center's Mission Bay Conference Center. The design industry and the frontlines of the medical field are teaming up to provide insights into delivering improved healthcare value. Registration is open online at IDSA.org/2016Medical through Nov. 7; then, onsite.
Significant challenges face both the design and medical fields as they each work to address needed improvements in healthcare value. Improving quality of care while lowering costs seems contradictory and to date has been unattainable. Valuable takeaways from the conference include:

Actionable new perspectives and methodologies to impact work on building and strengthening successful design for healthcare.
An understanding of considerations unique to designing in healthcare and how they can be addressed.
Insights on the need for collaboration between the design and healthcare fields, including challenges and successful models.
Jointly chaired by Bill Evans, IDSA, senior vice president of innovation, Bridge Design, a Ximedica company, and Aenor Sawyer, MD, of UCSF's Department of Orthopaedic Surgery, the co-hosted IDSA Medical Design Conference 2016 will combine insights from the design and healthcare disciplines to facilitate the care transformations sought by all stakeholders—from patients to providers to payers. Attendees will better understand each other's perspectives and how everyone can pull together to address major issues in healthcare that can be impacted by design.
"It's an exciting time to be a designer in healthcare; our profession will play a pivotal role," says Evans. "We are poised to use design to improve physical devices and to impact the digital, services and delivery ecosystems that surround such devices as we embrace the connected health revolution sweeping through our industry."
The design and medical professions can collaborate on one of the most pertinent conversations today, as the dialogue shifts from driving more use and better usability of the products and experiences designed—to how to create more meaningful, broader solutions to truly transform the healthcare system From Volume to Value.
"Recognizing that no one entity—patient, provider, payer or innovator—can address the complete value loop, the IDSA Medical Design Conference will draw representatives from the entire ecosystem to foster relevant dialogue and shared learnings," Evans explains.
Adam Gazzaley, MD, PhD, of Neuroscape, is scheduled to deliver an inspirational keynote presentation. His groundbreaking discoveries in neuroscience, profiled in The New York Times and The Wall Street Journal and on NBC, CNN, PBS and NPR, exemplify the power of cross-sector initiatives by combining design, healthcare, technology and research.
Speakers are set from LUNAR of McKinsey & Company; IDEO; Johnson & Johnson; Cedars-Sinai; BlackHägen Design; AppliedVR; Center for Care Innovations; Metaphase; Cannuflow; Halyard Health; HomeHero; HS Design; JeffDESIGN; Medtronic; NEA Healthcare Team; PurpleBinder; RubiconMD; St. Michael's Hospital; 3rd Stone Design; Stryker; Thomas Jefferson University Hospitals; Transcendent Endeavors; West County Health Centers; Ximedica; and more. Experts from UCSF; Stanford University; Auburn University; Georgia Institute of Technology; University of Cincinnati; University of Toronto; and other leading higher education institutions also will take the stage.
Trending topics range from robotic-assisted surgery, doctor-designer relationships and global health product design to the healthcare business environment, medical technologies, biodesign innovation and more, along with thought-provoking, interactive panels such as "The Future of Devices is not Devices," "Designers on the Future of Design in Healthcare" and "Designing a Culture of Safety."
Sponsors, media partners and exhibitors include Johnson & Johnson; Stryker; Ximedica; Agora; AllJack; BlackHägen Design; Core77; Freetech Plastics; KeyShot; Society of Plastics Engineers; and Ray Products. For information on more opportunities, contact KatrinaK(at)idsa.org. To schedule media interviews, contact media(at)idsa.org.
Arrive early and stay late to explore stunning San Francisco. Follow the journey with #IDSAMedical @IDSA on Twitter; Industrial Designers Society of America on Facebook and LinkedIn; and @IDSAdesign on Instagram.
Founded in 1965, the nonprofit IDSA is one of the oldest and largest membership associations for industrial design professionals with thousands of members in dozens of Student Chapters, Professional Chapters and Special Interest Sections in the United States and internationally. IDSA sponsors the annual International Design Excellence Awards® (IDEA), the world's most prestigious and rigorous design competition. The Society hosts events including an annual International Design Conference, five District Design Conferences and a Medical Design Conference, bringing together some of the biggest names and brightest minds in industrial design and related fields. Global outreach includes designUpdate and designBytes e-newsletters; INNOVATION—IDSA's flagship publication—a highly regarded magazine within the profession; and the Yearbook of Design Excellence, featuring IDEA, IDSA Award and Student Merit Award winners. IDSA Ambassadors support and promote industrial design with research and thought leadership such as INsights. For more information, log on to IDSA.org.