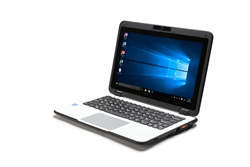 Today we're another step closer to making that dream a reality.
BUFFALO, New York (PRWEB) September 13, 2016
Bak USA, a mobile computer company based in Buffalo, New York, has collaborated with Microsoft Direct. According to the announcement, Bak USA's newest computer, the Atlas 12, is now available for order at any Microsoft retail store in the United States.
Bak USA, which opened in January 2015 and began collaborating with Microsoft last March, has been working with local schools and other global tech leaders such as Intel to develop the Atlas 12, a 2-in-1 mobile computer that is purpose-built for K-12 classrooms.
"Our vision is to make high-quality technologies accessible to everyone, especially students," said Bak USA Chief Technology Officer & Co-Founder Christian Bak. "Today we're another step closer to making that dream a reality. As we continue to work with Microsoft, we increase our capacity to build high-quality technologies, celebrate American standards of manufacturing, and make a meaningful impact on education."
The Atlas 12 is built with 360 degrees of flexibility, allowing it to function as a laptop or a tablet. Unique features include increased durability, 180-degree rotatable camera, attached stylus, detachable microscope, and a built-in handle.
"We are delighted to continue to expand our relationship with Bak USA as they launch the Atlas 12 with Windows 10, now available at Microsoft retail stores," said Peter Han, vice president, OEM Worldwide Marketing. "The Atlas 12 will provide the education market a device with versatility in design and use with its 360 degrees of flexibility along with unique deployment packages and digitized lesson plans."
Additionally, schools and small organizations that purchase the Atlas 12 through Microsoft can take advantage of Bak USA's flexible deployment packages, features of which include digitizing lesson plans, etching school-specific logos, and offering multiple packaging and delivery options.
Available through Microsoft's Shape the Future campaign—a government program dedicated to making technologies accessible to students and small businesses among others—the Atlas 12 retails for $399 at Microsoft's 79 retail stores across the United States.
About Bak USA
Bak USA (@_BakUSA) is a mobile computer company in Buffalo, New York. A grassroots enterprise with a global outreach, the company is aligning with local agencies, Intel, and Microsoft to build accessible technologies, empower local communities, and activate social prosperity. The Bak USA dream is to make high-quality technologies available to every human being on earth.
Press Contact
Christine Denham
281.433.5067
cdenham(at)martingroupmarketing(dot)com
###