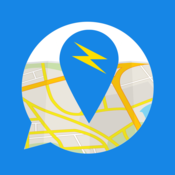 (PRWEB) September 13, 2016
A new iPhone app called Zivatar is tackling the scourge afflicting groups trying to communicate: dead batteries. The app automatically sends out notifications when a phone battery is critically low, giving friends the location of their compatriot. It also includes private video, photo, and charge-free worldwide text messaging for individuals and groups.
Zivatar is available now on the iTunes App Store and Google Play. It is free through Thursday, September 15 for iOS, and will match the $0.99 Android price thereafter.
Users can set up trusted individual contacts and groups to receive battery notifications. The threshold battery level for each contact can be set separately, along with a custom message. A reminder can also pop up on the user's own phone, accompanied by vibration, audio, and video.
The automatic notification feature provides the last known location of the phone. This information is useful when coordinating activities, but can also be crucial in the case of a missing person.
Zivatar also helps contacts keep in touch whenever they want. At any time, users can send NAV pins of their current (or any) location along with a short message. The NAV pins link directly to Google Maps, which gives the user turn by turn directions. They can also send individuals or groups captioned photos and videos that disappear after being viewed.
"Zivatar is about communicating with family and friends in a fun environment without your actions being tracked, your data being sold and advertisers constantly harassing you. We just wanted to create a great product that will make everyone's daily lives a little better, and possibly safer," said Garrett Patrick of Zivatar.
Half of the net proceeds from Zivatar downloads will be donated to non-profit organizations dedicated to the fight against cancer. Current partners include the National Breast Cancer Foundation, The Hormel Institute at the University of Minnesota, and the Karl R. Potach Foundation.
About the Developer
Zco Corporation is a tried-and-true software development company that has been living and breathing technology for over 25 years. A proven and reliable vendor choice, Zco is passionate in its mission to create attractive, resilient products for its clients. Its powerhouse team, one of the largest in the world, was handpicked for specialties in mobile app development, enterprise software, and animation services. To learn more, visit Zco.com or call 603.881.9200.