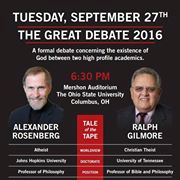 Henderson, Tennessee (PRWEB) September 13, 2016
Freed-Hardeman University Professor of Bible and Philosophy Ralph Gilmore, and Dr. Alexander Rosenberg, the R. Taylor Cole Professor of Philosophy at Duke University, Durham, North Carolina, will debate the existence of God Tuesday, Sept. 27, 6:30-9:30 p.m. EDT. The event, sponsored by the Warren Center for Apologetics, will be in Mershon Auditorium on the campus of The Ohio State University in Columbus, Ohio. The central question for the debate will be "Is God a Moral Monster?"
Gilmore, a Christian theist, received his doctorate in philosophy from the University of Tennessee at Knoxville. He was an honor student in apologetics and philosophy of religion at Harding Graduate School of Theology, studying under Thomas B. Warren for whom Warren Center for Apologetics is named. Gilmore is editor of "Kingdom," an online academic religious journal published by Freed-Hardeman University's College of Biblical Studies. He has appeared in numerous discussion and debate forums on biblical and philosophical issues.
Rosenberg, an atheist, holds secondary appointments in the biology and political science departments at Duke. He has served as a visiting professor at the University of Minnesota, University of California at Santa Cruz and Oxford University. He received his doctorate in philosophy from Johns Hopkins University. Rosenberg is the author of several books including "The Atheist's Guide to Reality" (2011). He is co-director of Duke's Center for the Philosophy of Biology.
Both debaters have agreed to affirm and defend a precisely stated affirmative proposition. Rosenberg will affirm the following: "Since I know that there is vast human and animal suffering, I know that a benevolent, omnipotent God does not exist." Gilmore will deny. Following the discussion of Rosenberg's affirmative proposition, Gilmore will affirm and defend his proposition: "The use of suffering as moral criticism against God implies the absolute moral law of God; therefore, God exists." Rosenberg will deny.
No admission will be charged to attend the debate. For those unable to attend, it will be livestreamed at WarrenCenterLive.com. Additional information about the debate is available at warrenapologeticscenter.com.