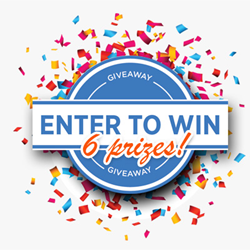 Its their largest sale of the season with giveaways totalling close to $3000 worth of merchandise to six lucky winners!
Minneapolis, MN (PRWEB) September 13, 2016
Today marks 16 years and thousands of products sold for Bellacor, an online industry leader in lighting and home furnishings. To celebrate, they're throwing their largest sale of the season and giving away close to $3000 worth of merchandise to six lucky winners.
Bellacor's anniversary culminates a productive 12 months of developing and launching its own brand, 251 First, along with ongoing merchandising efforts to offer the best products in the home space, at the best price possible. For this year's anniversary giveaway, they've partnered with bloggers: Life on Virginia Street, JoJotastic, Rain on a Tin Roof, The Golden Girl and HOT PINK Style to engage and build a broader online presence, and for their customers to see their products in use in real life.
The Anniversary Sale runs September 13 - 26, and offers shoppers up to 80% off plus, extra savings on 251 First products.
In addition to great savings, six lucky winners will receive shopping sprees to use toward products from Uttermost, Capital Lighting, Manhattan Comfort, Troy Lighting and/or Holtköetter brands. A combined total value of almost $3000 in prizes will be given away. No purchase needed. To enter the giveaways, visit http://www.bellacor.com/coupons-deals-promotions.htm#Giveaways. Giveaways begin on 9.13 and end on 10. 4, 2016 12:00 P.M. CT.
About Bellacor
Bellacor is a Minneapolis-based lighting and home furnishings online marketplace that serves customers around the globe. One of Internet Retailer's Top 500 E-Retailers, Bellacor has lead the online lighting and home décor industry since 2000. The Bellacor collection includes more than 500,000 items from 500+ trusted brands. For additional information, visit http://www.bellacor.com.