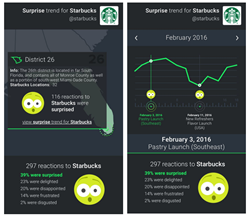 I'm excited to watch morphii change the way we express ourselves in the digital world.
Charleston, SC (PRWEB) September 14, 2016
morphii (morphii.com) has launched the first science-based keyboard app, now available at no cost on Apple's App Store for iOS users.
The morphii keyboard allows users to engage and react with characters, called morphii, that are scientifically-accurate expressions of emotion. morphii offers dynamic, scalable faces that allow users to communicate not only the emotion, but the intensity of that emotion. Users are able to download the app and keyboard in minutes and have immediate access to an array of morphii, as well as favorite morphing emoji.
Emoji are used by 90% of online users, making it the fastest-growing language in history. However, these emoji are often misinterpreted in conversation and render differently on the various digital platforms, leading to misrepresentation of emotion. morphii Founder and Chief Scientist Dr. Brian Sullivan believes morphii will solve these challenges.
"Several lines of research tell us emotion is critical to human connections, the way we choose, and ultimately most everything we do, but it's still too easy for us to misunderstand and miscommunicate our feelings in the digital world," says Dr. Sullivan.
While morphii has utilized scientific data to develop the core six universally understood facial expressions that represent real human emotion, which are dynamic and identifiable regardless of language, the keyboard app also allows users to morph some of their favorite emoji expressions like the kiss face, eyeroll and surprised faces.
Co-Founder Corley Higgins explains, "We wanted to give people the capacity to truly personalize the emojis they already send day-to-day. Our morphii technology allows the user to personalize a facial expression in order to indicate how they're feeling. We wanted to take the technology we developed for morphing facial expressions and apply it to emojis so our users could send emojis that are unique and meaningful. With morphii, that's finally possible."
"I'm excited to watch morphii change the way we express ourselves in the digital world," said Jeremy Berman, Founder of inKind and Startup Grind Charleston. "This product and team have the potential to change the way we interact online. The Charleston tech community has once again proven that we have the talent and resources necessary to create disrupting technologies."
morphii
http://www.morphii.com
morphii is a digital platform, introduced by Charleston-based tech company Vizbii, which places real emotion at the forefront of online conversation, going beyond 5-star ratings and like buttons. With the release of their first keyboard application, Vizbii introduces morphii software to the public, allowing online users to express, connect, and learn with unprecedented clarity.
Vizbii
http://www.vizbii.com
Vizbii is a visual business intelligence firm based in Daniel Island, SC. The company is currently in its second round of funding. Its nimble team of innovators is excited to introduce more products that disrupt the way we express, connect and learn.