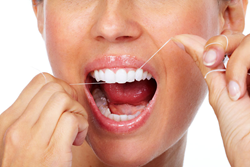 Flossing cannot be recommended other than for sites of gingival and periodontal health
Lexington, Kentucky (PRWEB) September 14, 2016
http://www.tossyourfloss.com The latest controversy over the benefits of flossing one's teeth was a lost opportunity for a more productive conversation, says Dr. Tom Larkin, a dentist in Lexington Kentucky. "The conversation should have been redirected as to what is the most effective way to clean and disinfect the mouth. Flossing is NOT at the top of the list. With gum disease and tooth decay at epidemic levels and now overwhelming evidence that infected gums are causing significant risk for heart attack and stroke, that is where the conversation should have been directed." Two of the nation's leaders on preventive cardiology agree. Dr Bradley Bale and Dr Amy Doneen of the Bale/Doneen method have read Dr Larkin's new book.
"Dr. Thomas J Larkin's book I'm Free provides excellent knowledge regarding the importance of oral health for total wellness. His emphasis on the germs in the mouth as the critical component driving the health risk is spot on! It is imperative that testing be done to identify the particular oral microorganisms. Fortunately, the germs known to cause risk with heart attacks and strokes can be identified. When uncovered the type of excellent dental care proposed by Dr. Larkin can eradicate the dangerous bacteria. His book is a must read for any savvy consumer who wants to maintain overall health."
Bradley Field Bale, MD
Co-founder of the Bale/Doneen Method
Bestselling Author, The Heart Attack Gene
"Dr. Larkin's book, "I'm Free" provides direct patient education surrounding optimal oral health and a step-by-step guide to create a healthy mouth and healthy body. Dr. Larkin is an expert in the oral health aspect of the Bale/Doneen Method and it is an honor to advocate for his life-saving work."
Dr. Amy L. Doneen DNP, ARNP Co-founder of the Bale/Doneen Method