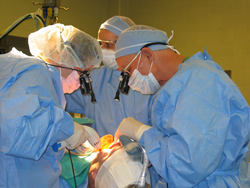 Our experienced multi-disciplinary team of dental specialists, physicians and anesthesiologists has treated thousands of the most complex dental cases.
San Francisco, CA (PRWEB) September 19, 2016
Blende Dental Group, pioneers in special needs dentistry, has created a new division, House Call Dentists, to bring greater access to care for people with Alzheimer's.
As Alzheimer's Awareness Month is approaching, dentistry must also meet the challenges of caring for someone with the disease and to focus the conversation on improving the limited dental resources available. Research shows that 50% of those with disabilities, and 50% of seniors in general, don't have access to dental care. It's a statistic that is improving as caregivers, healthcare providers, and family members begin to understand that the mouth is often the serious source of infection for the entire body.
At the forefront of that conversation in special needs dentistry is Dr. David Blende, a pioneer in restorative care for this population. The Blende Dental Group team treats patients who cannot physically, medically or cognitively tolerate dentistry. With the benefit of general anesthesia in a hospital setting, their team is able to offer the highest level of safety, comfort and provide a predictable dental outcome.
Late-stage Alzheimer's was the unfortunate plight for eighty three year old Betty Kouns, of San Francisco.
Because of Betty's condition, she rarely opened her mouth and refused to have her teeth brushed at her skilled nursing facility. During a visit by her son, Thomas, she opened her mouth just long enough for him to realize that her gums were infected and her teeth had decayed significantly. Thomas knew inflamed gums have a profoundly negative impact on the rest of the body, especially the heart. Through his research, he also learned that if a tooth becomes painful in a person with late-stage Alzheimer's they would not be able to articulate that and could end up in a state of constant pain and agitation. They may stop eating all together, leading to rapid deterioration.
A trusted adviser referred him to the Blende Dental Group -- one of only a few dental practices nationally that specializes in patients with diseases such as Alzheimer's, Parkinson's, and Autism. Betty Kouns' procedures were performed at Kaiser Hospital, San Francisco, where Dr. Blende (practice founder) is Chief of the Dental Division. According to Thomas Kouns, "she now has more energy, a stronger appetite and appears happier and healthier than before. It made me realize that there is a strong correlation between the health of our teeth and gums and our overall health and well-being".
Another sedation dentistry case study reveals that "The Blende Dental Group team was able to extract 3 teeth and have 18 fillings done, essentially reconstructing my father's mouth in less than 3 hours while he was under sedation." According to Daniel Fries, the results were nothing short of "amazing", and he expressed that their "service makes dealing with a tough situation as easy as possible, especially when the patient cannot express themselves personally. For those with family members suffering from Alzheimer's or dementia I want to stress the benefits of mobile and asleep dentistry, and in particular the expertise of Dr. Blende's team."
For those individuals who have Alzheimer's and are non-ambulatory or have difficulty leaving their home, Dr. Blende established House Call Dentists. Their mobile dentistry allows for the delivery of premium dental care in the comfort of the patient's home or care facility. They utilize state-of-the-art mobile dental technologies to provide preventative, restorative, and emergency care. By visiting a patient in their familiar setting, everyone experiences much less anxiety. Seniors with dementia, children with cognitive disabilities, and the frail elderly are often better able to receive care at home.
When asked what makes this group different, Dr. Blende says "Our experienced multi-disciplinary team of dental specialists, physicians and anesthesiologists has treated thousands of the most complex dental cases. We have continued to improve our delivery of care model over 30 years in order to achieve the goal of removing every barrier to access to dental care. The team provides a full continuum of care tailored to each patient's individual needs by seamlessly combining the convenience of a dental house call for diagnosis and palliative as well as restorative care. For more complex treatment needs, we utilize the safety of the hospital."
To read the detailed case study about Betty Kouns, and others like her, visit blendedentalgroup.com/stories/
To learn more about caring for patients with Alzheimer's visit the Alzheimer's Association.
About Blende Dental Group
Blende Dental Group, founder of House Call Dentists, is a medical-dental group with over 30 years of experience caring for a diverse range of patients by individualizing treatment, Awake (for general patients), Asleep ( general anesthesia), or At Home (for the homebound). Their vision is to remove all barriers to receiving dental care, and in pursuit of that goal they have performed thousands of house calls and sedation cases, and partnered with hundreds of senior communities and senior healthcare professionals. House Call Dentists is unique because it alone provides a continuum of dental care from palliative to restorative care, both in the home or, if necessary, in the safer hospital setting. The team is on staff at 10 hospitals in San Francisco and New York City. Dr. Blende is chief of the dental division of the four Sutter hospitals in San Francisco as well as chief at Kaiser Permanente, San Francisco.
For more information about Blende Dental Group's services in the San Francisco Bay Area or New York City, please visit blendedentalgroup.com and housecalldentists.com.