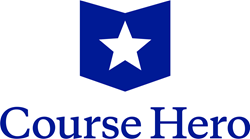 REDWOOD CITY, Calif. (PRWEB) September 13, 2016
Course Hero, an online learning platform that empowers millions of students and educators to succeed, today is announcing major growth metrics, three big name hires hailing from Google, Yahoo!, and VMWare, and a corporate rebrand to better position itself for the hard-to-reach but very important demographics of students and educators.
Course Hero is a crowdsourced learning platform where students and educators share and access millions of course-specific educational resources, get 24/7 online tutoring, and create flashcards. In the last 12 months alone, the platform's content library has grown 50%+, it has added 170,000 pieces of Course Advice (from virtually zero) and its user base now exceeds 12.5M users.
"I'm incredibly proud of the work the Course Hero team has done to support students and democratize access to course-specific study materials," said company co-founder and CEO, Andrew Grauer. "I'm also proud of the work we're doing to support educators as the Course Hero platform now serves more than 85,000 free educator accounts. These accounts enable them to share their own materials with other educators and students and get access to each other's materials. Our aim is to bring educators together. We want to help them find new inspiration, learn new techniques, and investigate multiple perspectives to learn from each other, save valuable time, and get better learning outcomes for students."
To continue this trajectory of rapid growth in serving both students and educators, Course Hero has also brought on a slate of top leadership, and is introducing an exciting new brand identity.
To help accelerate this growth and scale the company's marketing and partnerships team, the company recently hired Patrick Mork as its new Chief Marketing Officer. Mork, who led the rebrand initiative, has an impressive career background that includes building and leading the marketing team that launched the Google Play store. He is joined by new VP of Engineering Lynne Thieme, formerly VP of Engineering at Idealist and a member of the Alumni board at University of Illinois Urbana-Champaign. Thieme's career also includes positions at VMware, Oracle and IBM. Lastly, the company also brought on CFO Stephen Van Horne who was previously CFO at Get Insured and brings years of experience from Yahoo!, Ignite! and Bechtel.
About Course Hero | Master Your ClassesTM
Headquartered in Silicon Valley, Course Hero is a venture-backed online learning platform that empowers millions of students and educators to succeed. Fueled by a passionate community of students and educators who share their course-specific knowledge and educational resources, Course Hero offers the biggest and best library of study documents, expert tutors, customizable flashcards, and course advice. The company was named a Top Workplace by the Bay Area News Group. Download the Course Hero app for iPhone or Android today or follow Course Hero on CrunchBase and AngelList.
For more information, contact:
Haley Hartwick
Grayling for Course Hero
(415) 593-1400
coursehero(at)grayling.com