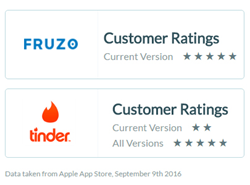 Upon analyzing the data it became clear that we have uncovered the reasons why Fruzo has become an almost instant hit with people from all backgrounds
Los Angeles, CA (PRWEB) October 06, 2016
A study conducted for the purposes of market research by dating social networking website and mobile application, Fruzo, has found some interesting facts about how people want to find a match online. Since launching their mobile application at the beginning of September, Fruzo has experienced a sharp surge in growth, akin to the growth experienced by Tinder when the dating app first launched in 2013. The research looked into trends and demographics for Fruzo and deciphered the reasons why people were quickly becoming obsessed with the latest way of connecting online.
According to the study, the huge increase in popularity of Fruzo is due to a number of reasons. The first, and perhaps most important, is the unique feature of allowing users to meet via video chat rather than by simply looking at pictures and using text chat. This eliminates any worry of matching with a spam or fake profile and wasting time talking to a scammer or robot. The ability to actually meet the person you are chatting with via live cam to cam streams is something unique to Fruzo that apps such as Tinder, MeetMe, and other social apps don't provide. Other reasons for the explosion in popularity of Fruzo include the social networking aspect of the app, with users able to add friends and follow people they like, and the ability to meet people from around the world without geographical limitations.
"Our study was conducted to investigate the demographics of our users since the launch of our mobile application and to see how we can improve the service we provide", said Fruzo co-founder, Richard Fox, "However, upon analyzing the data it became clear that we have uncovered the reasons why Fruzo has become an almost instant hit with people from all backgrounds".
An interesting insight displayed in the study is the demographics of users on Fruzo. As the service is more geared towards a dating social networking and meeting people via video chat, it seems to have struck a chord with both males and females rather than become a male dominated arena. For comparison, research shows that Tinder consists of 62% males and 38% females, whereas Fruzo is more balanced with 55% males and 45% females. Fruzo also attracts a more mature audience with the majority of users falling into the 25 to 44 age group as opposed to Tinder where the majority fall into the 16 to 34 age group.
It appears the ability to instantly video chat with people rather than rely solely on a handful of pictures and text chat appeals greatly to females and a more mature audience. This, combined with familiar social networking features such as a friends list and being able to follow people that you like or feel a connection with has seen Fruzo grow rapidly since the beginning of September. Word of mouth is also spreading as Fruzo enjoyed a record number of member signups on Monday.
About Fruzo
Fruzo is an easy to use dating social network and video chat service where people can find a match online. Fruzo allows users to create an account using their Facebook credentials and chat with other people via webcam, create friends lists, and follow other users from around the world. Users can connect with new people either randomly via the video chat or by searching for friends using a number of filters including gender, country, city, and age. The service is available to use on both web browser and mobile application, providing users with the ability to connect on the go.