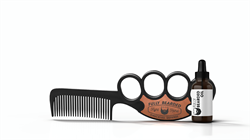 Delrin® acetal, the comb's material, is extremely hardwearing, but most importantly, it cuts down on static and provides superior impact resistance.
Salina, KS (PRWEB) September 13, 2016
Touted as the most manly beard comb and the best defense a beard can have, the Knuckled Comb boasts a rugged frame and four finger holes designed to offer a comfortable grip and beard combing experience for men with beards. It features carefully spaced, curved teeth that reduce friction and glide through the toughest of beards without discomfort. The base of the comb sports branded leather inserts brandishing the company's name and logo - a feature that adds to the luxury and quality of the frame.
The prototype for the Knuckled Comb was developed from 3D printing and the method was used throughout the entire development process of the comb. Fully Bearded has already produced 20 prototypes made from poured urethane into a hand-made mold; however, in order to improve the quality and finish, the final product will be manufactured from Delrin® acetal. This material is an industrial thermoplastic that is commonly used in gears, bearings and healthcare devices. Delrin® acetal is extremely hardwearing, but most importantly, it cuts down on static and provides superior impact resistance.
The Knuckled Comb was developed by three bearded friends, Neil Ward, Dustin Keiswetter and Shaun Kibbe. Discussing the inspiration for the comb, Dustin said: "I wanted a unique Christmas gift for my bearded brother; he got one of the first basic versions. Our team decided to give it some style and many revisions later we got to where we are today."
Most of the 20 prototypes of the Knuckled Comb have been distributed and the response has been overwhelming. Owner of Big Dobs Beard Balm, Alan, fully endorses the beard comb. He said: "I've used the comb and I've got to say it is great!"
Fully Bearded is attempting to raise $25,500 to fund the project. Although it would have been less expensive to produce the beard combs in China or elsewhere. The team believes they have a responsibility to contribute to the American manufacturing industry and are, therefore, committed to having the combs manufactured in the USA.
With less than a month to go, the campaign has achieved less than a third of the goal and need all the support they can get to make production of the Knuckled Comb a reality. Individuals can back the campaign for as little as $6 and receive a 3D printable file, a donation of $12 or more will be rewarded with the comb itself. Package options go up from there, to even include beard oil combinations or your own custom logo branded into the leather inlaid handle of the Knuckled Comb.
For further details on the bearded comb, visit: http://www.fullybearded.com. To back this project, please visit: https://www.kickstarter.com/projects/1335978249/the-knuckled-comb-from-fully-bearded-a-beard-comb.
###
Media Contact: Dustin Keiswetter
Telephone: +1 (816) 237-0542