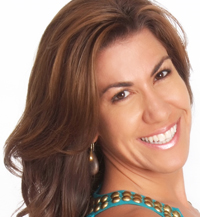 Most people don't get how beautiful and radiant they can be until you put them in a context where you can almost trick them into it, where they're thinking, 'Oh my God, I can't believe I did that.'
San Diego, CA (PRWEB) September 22, 2016
In Episode 4 of her "Boost Your Sales and Lifestyle" podcast, "Context Over Content," Queen of Sales Conversion Lisa Sasevich interviews Blair Singer, expert in sales, business, and personal growth, about what inspires women clients to say yes, as well as big no-no's to avoid when selling to women.
Listen to the podcast here: http://www.boostyoursalesshow.com/four/
"For almost three decades, Blair Singer has empowered people around the world to go beyond their ordinary selves and reach peak performance as their extraordinary selves," Sasevich said.
Singer explained that the true path to success must incorporate the technical side and the personal development side, and during this podcast he shares tips for using both to inspire women to say, "yes."
"Most people don't get how beautiful and radiant they can be until you put them in a context where you can almost trick them into it, where they're thinking, 'Oh my God, I can't believe I did that,'" Singer said. "'I didn't believe I could generate that much income. I didn't believe I could stand in front of a group of people. I didn't believe I could do that.'"
He added, "Once they believe and get it, there is no turning back."
Sasevich said heart-centered entrepreneurs and service professionals who can put their prospective clients into that type of context can become successful by inspiring those prospects to become clients and experience change.
"Context Over Content" is designed for heart-centered coaches, experts, and entrepreneurs who want to take a holistic approach to sales training and transformation.
Heart-centered entrepreneurs, experts, and authors who listen to "Context Over Content," the fourth episode of Sasevich's podcast, will learn:

The first thing Singer teaches his clients, and how to use this tip to make more sales without ever launching into "salesman mode."
The one thing people want to do, "so badly," according to Singer … and how to create the space for this in marketing and sales.
What trumps money, prestige, and fame for women buyers.
And more.
"I love the unique point Singer brings to this series," Sasevich said. "I haven't heard it articulated quite this way."
People who visit the podcast at the link below also receive a complimentary copy of Sasevich's book, "Boost Your Sales: How to Use Irresistible Offers … Without Being Salesy!"
Check out Sasevich's podcast here: http://www.boostyoursalesshow.com/four/
Honored with the Distinguished Mentor Award from the Business Expert Forum at the Harvard Faculty Club, recipient of the coveted eWomen Network Foundation Champion award for her generous fundraising, and ranked on the prestigious Inc. 500/5000 list of America's Fastest Growing Private Companies for 2 years in a row, Lisa Sasevich "The Queen of Sales Conversion" teaches experts who are making a difference how to get their message out and enjoy massive results, without being salesy.
After 25 years of winning Top Sales Awards and training senior executives at companies like Pfizer and Hewlett-Packard, she left corporate America and put her skills to the test as an entrepreneur delivering high-impact sales-closing strategies for turbo-charging entrepreneurs and small business owners to great profits.
In just a few short years, Lisa created a multi-million dollar home-based business with two toddlers in tow. Lisa really is the undisputed expert on how to make BIG money doing what you love!
To receive monthly Sales Nuggets and Lisa's FREE sales training, "Boost Sales with Irresistible Offers," sign up today at http://www.FreeSalesTrainingFromLisa.com