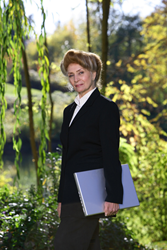 Grants Pass, OR (PRWEB) September 13, 2016
Sharon Kleyne, water advocate and radio host of The Sharon Kleyne Hour Power of Water radio program, is passionate about water and healthy diets. On August 29th, Kleyne welcomed nutrition expert Dr. Theresa Nicassio to her radio show to talk about diet and health. Dr. Nicassio, a Canadian and best-selling author of YUM: Plant-based Recipes for a Gluten-free Diet, shared her fascination with bio-individuality, the study of food allergies and food sensitivities that are unique to everyone.
Nicassio, a registered psychologist, traces her love of a healthy diet to her own health crisis in 1997 when her immune system's inflammatory condition hit rock-bottom. Kleyne pointed out that when our bodies suffer inflammation, we actually feel the heat, which she likened to manure fermenting on a farmer's field. "Yes," said Nicassio, "I like that you call it manure! I was this big pile of manure walking around. I told my husband I felt like a toxic dump!" In her writing about nutrition, and in her psychology practice, Nicassio enjoys working with people challenged by inflammation disorders. She believes that these disorders are often related to depression and anxiety and can, of course, lead to serious illnesses such as cancer, heart disease and diabetes.
Nicassio and Kleyne agreed that water is the key to treating and finding cures for a host of health issues that plague us today. "As Dr. Gerald H. Pollack reminded us in a recent show," said Kleyne, 'Water was forgotten by medical and scientific research, and that was a life-threatening, inflammatory mistake.' Water creates a shield against inflammation and disease," said Kleyne, the founder of Bio-Logic Aqua® Research Water Life Science®. Kleyne believes that people must be more educated about the depletion through evaporation of the earth's water vapor and the water vapor in every living organism. "Without water vapor," Kleyne said, "one can't breathe. We need water vapor to live. For instance," Kleyne continued, "did you know that your eye lens in 99 percent water, and that dry eye disease plagues millions of people around the world? That's why I created Nature's Tears® EyeMist®, the only Trade Secret tissue culture grade water-only remedy for dry eye disease in the world.
Dr. Nicassio applauded Kleyne's water life science research. She was also delighted that Kleyne enthusiastically supports eating green. "You know,: said Nicassio, "fresh, healthy greens are mostly water, but they're also packed with antioxidants and other minerals and vitamins that are essential to our wellbeing. When you eat Green, you consume living food, which is always better for your health in general. It's much better for you than eating sugar and processed foods that kill you," said Nicassio, who also enjoys distinction as a certified gourmet raw veggie chef.
"If you mist your eyes and skin and eat green," Kleyne added, "you could go to the moon and back with your newfound energy and not get tired." Kleyne urged everyone to slow down the body's water evaporation by listening to your body, drinking 8 to 10 glasses of water each day and breathing properly. "Slow down the evaporation process," she said, "and you'll live longer and be healthier. Water is the key," Kleyne said. "In all its phases, it's the best shield against the inception and spread of illness and conditions like obesity, cancer and heart disease."
"Eating green," said Nicassio, "is also a major step in the right direction if you want to take responsibility for living with a healthy diet. I believe," she continued, "that within fifteen-to-twenty years, the medical profession, food industry and government will recommend that gluten be restricted in every person's diet."