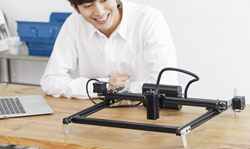 World's most affordable DIY laser cutter and engraver
YAMANASHI, Japan (PRWEB) September 19, 2016
smartDIYs, a leading laser cutter and engraver start-up in Japan, ended their crowdfunding campaign with a huge success in June. Their most featured desktop laser cutter and engraver, FABOOL Laser Mini, collected about $60 million, which was the highest amount ever in the history of major crowdfunding platforms in Japan as well as the second highest among laser cutter campaigns in the world.Although the reaction they got from the crowdfunding was beyond their expectations, without any delay they managed to ship all orders by the due date. In addition, their result on crowdfunding became news and attracted even larger number of people, not only in Japan but also all over the world because of the ten-minute broadcasting on NHK World. With that they decided to launch globally earlier than the original plan.
Three Key Features of FABOOL Laser Mini
-1. Affordable Price -
The combination of "utilizing open source" and "self-assembly style" allowed them to offer the laser cutter and engraver for $598, which is the most affordable price among the laser cutter and engravers officially sold in the world.
-2. High-Spec and Japan Design-
Equipped with high-spec motor driver and high-speed microcomputer chip, FABOOL Laser Mini can be used in various situations from designing, to prototyping, and more! Despite its affordability, the design of whole structure of the product and each component was done in Japan, which assures the high quality of the product.
-3. Expandability to Support Even Wider Range of Creativity -
Sold as optional products, the Expansion Kit and more powerful Laser Head allow users to cut and engrave in even larger area (1mx1m) with more power. Both hardware and software are open source so that users can add their unique features.
Visit smartDIYs official page
Visit the crowdfunding page of FABOOL Laser Mini