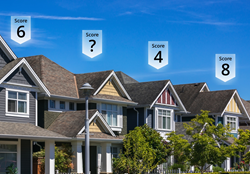 We'd never buy a car without knowing its miles per gallon rating, and yet everyday, people are making rental and purchasing decisions without any awareness of the home's energy consumption.
Boulder, CO (PRWEB) September 15, 2016
Boulder, CO - Snugg Home, a leading home energy software provider, rolls out support for the Home Energy Score to all of users of Snugg Pro – their flagship proposal generator and energy audit platform. With contractors and auditors in over 40 US states using Snugg Pro, the move is the latest in a string of successful partnerships between Federal, State and private players who seek to further establish the Home Energy Score as the de facto standard for existing homes across the country.
The US Department of Energy's Home Energy Score is a national standard that gives prospective and existing homeowners or tenants the equivalent of a miles per gallon rating for their home. The Home Energy Score uses a simple 1-to-10 scale where a 10 represents the most energy efficient homes.
Snugg Home co-founder and CEO Adam Stenftenagel said, "We worked closely with the Colorado Energy Office and the US Department of Energy to ensure an optimal integration with the DOE's Home Energy Score platform. It's easy for any Snugg Pro user who has passed the Home Energy Score Assessor exam to create a score with minimal extra effort to their everyday auditing process. We're thrilled with the interest that the Home Energy Score is generating among government and utility efficiency programs and are excited to add the feature to Snugg Pro!"
Peter Rusin, Residential Program Manager at the Colorado Energy Office said, "As part of the Colorado Energy Office's broader work in the residential real estate transactions and valuation, the State needs a tool that can provide quality data for appraisers and the required information for energy efficient mortgages. Snugg Pro can deliver that information for Colorado homeowners, appraisers, lenders and real estate brokers with the addition of the Home Energy Score. Most importantly, the seamless integration of the Home Energy Score reduces the training and data collection burden the office once feared."
Snugg Pro's cloud-based platform gives efficiency programs real-time access to Home Energy Scores from participating auditing and contracting companies. Programs in Colorado and Wisconsin have already started using Snugg Pro to generate Home Energy Scores as part of the comprehensive energy audits performed by their trade allies.
The US Department of Energy's goal is to build market value for home energy efficiency among single-family residences and townhomes. The DOE envisions the Home Energy Score becoming the go-to metric for valuing, understanding, and financing home energy efficiency in the existing homes market.
Stenftenagel says, "Many US households spend more money on home energy bills than they do on gasoline. We'd never buy a car without knowing its miles per gallon rating, and yet everyday, people are making rental and purchasing decisions without any awareness of the home's energy consumption. The Home Energy Score will help people make more informed choices."
With nearly 50,000 homes scored across the country, partnerships like this one are rapidly paving the way for nationwide recognition of the Home Energy Score.
Upcoming Home Energy Score Webinar on October 4, 2016:
Snugg Home is hosting a webinar to discuss the seamless integration of Home Energy Score and Snugg Pro. Joan Glickman from the Department of Energy and Scott Bloedorn from Focus on Energy will discuss using Snugg Pro to issue Home Energy Scores and how to create a statewide Home Energy Score program. Adam Stenftenagel from Snugg Home will demo the integration.
Sign up here: https://attendee.gotowebinar.com/register/2818371935454517763
About Snugg Home
Snugg Home is based in Boulder, CO and builds software to empower large scale adoption of energy efficiency and renewables. Snugg Home is the maker of Snugg Pro, the cloud-based home energy auditing app.
PRESS KIT with photos, visuals and logos:
https://www.dropbox.com/sh/cdgloooc1rreoq3/AAA2PDAXyGhORyc6kuH994o-a?dl=0
OTHER LINKS
Home Energy Score:
http://betterbuildingssolutioncenter.energy.gov/home-energy-score/home-energy-score-about-score
Snugg Home blog post about HES:
https://snuggpro.com/blog/item/support-for-the-us-department-of-energy-home-energy-score