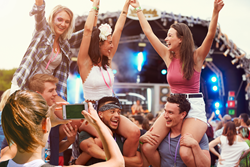 "PhotoSesh customers now have the option for pro photographers or iPhoneographers depending on one's needs. Giving customers more transparency and more choices is the top priority." - Shari Seshadri, Co-Founder & President, PhotoSesh
San Francisco, CA (PRWEB) September 13, 2016
Today, PhotoSesh, a cutting edge photographer marketplace that connects consumers with background checked pro photographers, has confirmed it will officially launch its brand new PhotoSeshLIGHT version and reveal details of its expansion to the West Coast at TechCrunch Disrupt SF 2016. The mega-conference is taking place in San Francisco until Wednesday, September 14th.
Creating the world's first iPhoneographer marketplace and inspired to come out of beta by Apple's announcement of the new iPhone 7, PhotoSesh LIGHT enables consumers to connect directly with nearby iPhoneographers the same way their sister platform, PhotoSesh, connects consumers to affordable pro photographers. The family owned app takes advantage of AirDrop capabilities to immediately transfer pictures between iOS-powered devices.
Currently, PhotoSesh brings consumers a true convenience with the easiest and fastest way to secure a professional photographer nearby. The rates are budget friendly at $30-75/hr. The platform is full of professional talent because even the most in demand photographers have openings in their schedule. With PhotoSesh, photographers can fill openings with discounted gigs so they stay busy and the consumer saves. By adding PhotoSesh LIGHT to the platform, the company plans to leverage the up and coming trend of professionals and enthusiasts utilizing the iPhone camera on a high level. This ultimately gives an opportunity for iPhoneographer freelancers to earn some income.
PhotoSesh LIGHT will be most useful in busier areas related to tourist attractions, music festivals, and events that generally bring a crowd. With over 100 million iPhone users in the United States, the potential supply of available iPhoneographers is extremely promising. You can secure your mini shoot in literally seconds and when requesting for PhotoSesh LIGHT, and costs are as lowas $10 on a 30 minute session.
"PhotoSesh is proud to have this opportunity to shine at one of the world's most distinguished technology events. TechCrunch Disrupt 2016 represents a monumental milestone for the company," expressed, Christopher Seshadri, Co-Founder and CEO, PhotoSesh. "The new PhotoSesh LIGHT offering will make good use of the iPhone 7 as the technology is second to none. With low light imagery and great depth perspective for portrait shots, there is now very little to complain about from a photographer's perspective. Across the United States, there is a growing waiting list of photographers eager to jump on board, so the move into the West Coast is an exciting opportunity."
With a database of thousands of top photographers, PhotoSesh helps users see a nearby list of vetted and verified photographers at an affordable rate. The platform prides itself on the full transparency of pricing, portfolios, and availability. Customers are able to confirm the most cost effective rates as the portal takes advantage of the calendar openings that show even the highest rated photographers have gaps in the schedule. These gaps are then offered at a substantial discount on the platform. Empowered with marketplace analytics, today, the average hourly rates for a photographer on PhotoSesh are the most competitive in the United States.
"Market research and surveys revealed that people can feel intimidated by big, bulky, black professional photographic equipment. It gets in the way of making a real connection with people in a casual candid environment. Adding PhotoSesh LIGHT to the existing PhotoSesh platform has changed all of that," commented, Shari Seshadri Co-Founder and President, PhotoSesh. "PhotoSesh customers now have the option for pro photographers or iPhoneographers depending on one's needs. Giving customers more transparency and more choices is the top priority. Aside from customer satisfaction, PhotoSesh stands for something greater within communities across America and philanthropy remains at the company core, especially in a mission to effectively tackle important issues relating to homelessness, children in need, and animal shelters. It was a need for photographers at past charity events that created the concept of PhotoSesh. If it wasn't for charity, the embryo of the company may never had happened. PhotoSesh is proud of the culture that it was built on and look to continue giving back every possible moment. Both customers and photographers know that proceeds from PhotoSesh requests are very beneficial towards the mission to continue contributing to local charity events."
From its headquarters in New Jersey, the PhotoSesh team is helping individuals as well as retail and commercial customers across the country. Whether one's searching for portrait photographers, real estate photographers, a child's birthday party, or any of the 18 categories, customers can secure a PhotoSesh booking within seconds.
Download the app here and explore the talent nearby.
PhotoSesh – Find Affordable Photographers Here: https://appsto.re/us/bajRbb.i
About PhotoSesh:
Since 2014, PhotoSesh has dedicated itself to fixing a broken, non-transparent, fragmented, and inconvenient hiring process for finding top photographers at super-affordable prices. PhotoSesh has been featured by Inc, Digital Trends, and Success Magazine. Visit us this week at TechCrunch Disrupt 2016.
About TechCrunch Disrupt:
TechCrunch Disrupt SF 2016 is TechCrunch's tenth annual conference in San Francisco. The format combines top thought-leader discussions with new product and company launches. Morning executive discussions debate technology-driven disruptions in many industries, while the afternoons are reserved for the Startup Battlefield, where 20+ new companies will launch for the first time onstage, selected to present from numerous applications received from around the world. The winning company will receive a $50,000 grand prize and the Disrupt Cup at the conclusion of the conference. The conference is September 12-14, 2016 at Pier 48 in San Francisco.
Media Contact:
Shari Seshadri, Co-Founder and President, PhotoSesh.
Email: Info(at)PhotoSesh(dot)com
Tel: 201-721-8656.