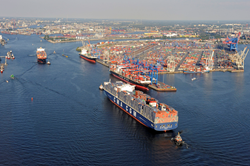 Munich, Germany (PRWEB UK) 14 September 2016
One of the transport and logistics sector's leading IT and software providers DAKOSY AG, has become the first company in Germany to use a fully integrated IT Asset and Service Management tool which is verified for all 16 PinkVERIFY™ ITIL® processes.
Based in Hamburg, Germany, DAKOSY has used Axios Systems' IT Service Management solution assyst for handling all incident and service request at their subsidiary CargoSoft's Service Desk since 2012.
Via assyst, DAKOSY supports over 400 customers at CargoSoft, including the largest names in logistics. The global logistics market is worth in excess of €6 trillion per year, and ships more than 10 billion tonnes of cargo around the world. The requirement to ensure these major companies receive un-paralleled service has never been greater. To enable greater IT operation efficiencies and higher business value, DAKOSY will utilize the assyst ITAM Suite to control both IT Service and Asset management with one integrated tool.
With assyst ITAM Suite, DAKOSY inventories all existing IT assets, ensuring visibility of these assets are complete and accurate at all times. Furthermore, Patch Management is now controlled and executed while software updates are collected and distributed centrally. Compatibility problems are also prevented through profiles, which define a minimum of hardware and performance requirements. Consequently, servers use the latest versions at all times, and meet the most recent security standards.
Niels Martens, Data Center Manager at DAKOSY AG said: "Since 2012 assyst has been embedded in our subsidiary CargoSoft. The combination of its usability and complete service management functionality has enabled our team to systematically and relentlessly improve our service delivery. Using assyst ITAM Suite will significantly improve our service efficiency".
Gerald Haberecker, Head of Sales for the DACH region at Axios Systems added: "assyst was the first product in the world to be accredited for all 16 ITIL® processes. By adding our assyst ITAM Suite, DAKOSY AG has added yet further capability to their outstanding service delivery. With an integrated IT Asset Management and IT Service Management in one tool, DAKOSY manages technology from a business value perspective".
About DAKOSY
As one of the leading IT and software service providers for the transportation industry, DAKOSY has been providing forward looking solutions for international freight forwarding (sea and air) and customs clearance (ATLAS, EMCS, ICS) for more than 30 years.
As a system vendor and clearing center, DAKOSY provides a wide range of IT and data center services for their customers. More than 2,200 companies across Europe use DAKOSY AG´s state-of-the-art data centers for their electronic business communication. These companies include world famous trading houses, branded companies, industrial enterprises, freight forwarders, shipping companies, liner agents, carriers and various authorities (customs, harbor police and so on).
DAKOSY also operates the Port Community System for the Port of Hamburg and the Cargo Community System for Frankfurt Airport. All companies and authorities who are involved in the export, import and transit processes can use the services and applications of DAKOSY for quick and transparent transport processes.
Since the beginning of 2007 CargoSoft GmbH, based in Bremen, has been part of DAKOSY. The CargoSoft GmbH is a global player in offering software solutions for forwarder (air, sea).
About Axios Systems
For over 25 years, Axios Systems has been committed to delivering innovative IT Service Management (ITSM) and IT Asset Management (ITAM) solutions that help customers improve not only their infrastructure operations, but also to enhance service delivery across business functions, including HR, Facilities Management and Finance. Axios is recognized as a world leader by leading analysts and their global client base, with a 100% focus on service management technologies.
Axios's enterprise ITSM software, assyst, is purpose-built to transform IT departments into profitable business-focused customer service teams. assyst adds tangible value to each client's organization by building on the ITIL® framework to help solve their business challenges across the organization.
assyst is accredited for all 16 PinkVERIFY™ ITIL® processes, and Axios was the first technology vendor to achieve this within a single solution.
For more information, please visit our website at http://www.axiossystems.com/
Press Contact: christina.koob(at)axiossystems(dot)com