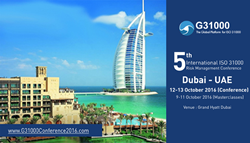 Finally, there is an international ISO 31000 risk management standard. Do not miss it !
Dubai, UAE (PRWEB) September 17, 2016
Risk management is not about compliance or reporting, but associated to decision-making to achieve objectives. The coming international event encourages all risk management programs to be based on ISO 31000, the only internationally-recognized risk management standard, adopted by more than 65 countries as their national risk management standard. See: http://www.G31000conference2016.org
CONFERENCE
We have gathered together an outstanding panel of international experts and practitioners to share their current perspectives on the ISO 31000 Risk Management standard. Our conference will explore the impact of ISO 31000 standard to all other ISO standards and the latest developments in your sector.
Also, the link between risk, uncertainty, performance and decision-making will be discussed and how it is changing the global risk management community.
MASTERCLASSES
Take the chance to attend the Masterclasses and get your personal certification on the ISO 31000 standard. See: https://G31000conference2016.org/training-masterclasses/
QUOTES
"Following the success of the first international conference on ISO 31000 held in Paris in May 2012, the Fifth conference will address the introduction of risk in all ISO Management Systems which is going to impact millions of certified organisations, worldwide. At that occasion, two new international ISO standards are presented : ISO 45001 Occupational, Health & Safety (replacing OSHAS 18001) and ISO 37001 Anti-Bribery Management System. The second major theme will address the link between risk, uncertainty, performance and decision-making – a challenge for the global risk management community active across all fields, sectors, industries and services related to risk management," said Alex Dali, President of G31000, the international non-for-profit NGO dedicated to raise awareness on ISO 31000 standard.
TOPICS
Together with 30+ speakers to meet during the main and parallel sessions, receptions, lunches and conference breaks, Gala Dinner and Global Awards ceremony, participants will have the opportunity to meet experts in ISO 31000, risk managers, CEOs, CFOs and others decision-makers.
4 special plenary discussions including:

ISO 31000 and ISO Management systems
How to implement ISO 31000 - Risk Maturity Model
ISO 31000 and Decision-making
Raising the awareness about IS0 31000, worldwide
8 concurrent sessions drilling down in practice how the ISO 31000 standard is referred, such as

Revision of the COSO ERM by PwC USA
Leveraging ISO31000 for ERM Success
ISO31000 and Project Management : complementary?
ISO 45001 Occupational, Health & Safety (NEW standard)
ISO 37001 Anti-Bribery (New standard)
Business Continuity and Resilience Management
Education and certification
Internal Audit and evaluation
Finance & Banking / regulations
Human factors / security / safety
ABOUT G31000
The Global Institute for Risk Management Standards provides its 65,000 members with business information and knowledge on the ISO 31000 Risk Management Standard which enables them to reinforce business performance and their decision-making process, thus giving a valuable competitive advantage and making a positive contribution to their success.
The Global Institute for Risk Management Standards has been built from the successful discussion forum (58,000 members on LinkedIn) towards the creation of G31000, a global platform for ISO 31000, and initiating multiple initiatives around the ISO 31000 standard. Registration at https://G31000conference2016.org/register/