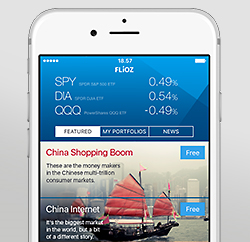 WealthyTec's key China stock portfolios have delivered over 50% increase over the past year
Helsinki, Finland (PRWEB) September 15, 2016
Today, WealthyTec and Flioz – two Finnish FinTech start-ups – launch a series of stock portfolios for international investors to tap into the tremendous opportunities that China offers.
"With the negative news around the Chinese economy, one easily forgets there are several sectors in China that are likely to outperform 'western' investment opportunities for decades to come", said Jukka Blomberg, Founder and CEO of WealthyTec and author of investment guide 'How to Profit from China'.
The China portfolios are created by WealthyTec's China expert Jukka Blomberg using the Wealthy Robo – Artificial Intelligence behind the WealthyTec service – optimized to find the best internationally tradeable Chinese stocks.
Portfolios are made available to investors during September via a new investment app, Flioz. Flioz makes it easy to track, benchmark and further analyze investment portfolios and strategies on a portfolio level.
Mika Perttula, Co-Founder and CEO of Flioz comments: "Flioz is a new way to easily find profitable stock strategies, and it's fast becoming a must have investment strategy app for all investors. Incorporating WealthyTec's China investment portfolios is yet another great example of how we add value to our customers."
"Co-operation with Flioz offers an excellent opportunity to showcase the power of Wealthy Robo," says Blomberg.
The China portfolio set – created by WealthyTec – is available through the Flioz iOS app
How to Profit from China book is available at: http://www.wealthytec.com/book
Frequently Asked Questions: WealthyTec Flioz FAQ
About WealthyTec
WealthyTec is an early stage FinTech start-up based in Helsinki, Finland. We have an Automated Investment Advisor (robo-advisor) with the core focus on Chinese stocks that can be traded by international investors. We aim to make investing in China easier for western investors.
For more information, please visit: http://www.wealthytec.com
Media enquiries: press(at)wealthytec(dot)com
Media kit: dropbox.com/sh/kczqbozdrm8wzjp/AAD5Arb7NPZLMvH9qbLR4h-0a?dl=0
About Flioz:
Flioz Ltd is a Finnish based Fintech company providing mobile software applications for investors. Flioz app is an investment strategy app for finding successful portfolios. We are a team of finance professionals, designers and software developers dedicated to make investing in stock markets profitable, easy and fun.
For more information, please visit: http://www.flioz.com
Media enquiries: flioz(at)flioz(dot)com
Media kit: dropbox.com/sh/gyzkwulb930tvkz/AADmGqnigsvyfnC1xTf3-epua?dl=0