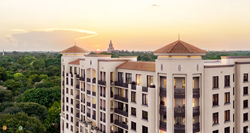 Sales of residences at Merrick Manor have reached the 53% mark.
Miami, Florida (PRWEB) September 15, 2016
The Astor Companies is proud to announce the acceleration of construction activities at the Merrick Manor project site. This 10-story contemporary Mediterranean Villa-style condominium project is designed by architectural firm Behar & Font, with the lobby and all interior community areas designed by world-renowned design company, Interiors by Steven G. Merrick Manor will be located in the most desirable and exclusive area of Coral Gables. Adjacent to the Shops at Merrick Park, when completed Merrick Manor will consist of 227 unique residential units and 19,000 square feet of prime retail space with 24-hour valet and concierge service.
The City of Coral Gables Building Division is currently analyzing the plans to grant approval for the next step. Astor engineers, architects and project managers, have spent countless hours working on the plans needed for a project of this magnitude. As of today, work has been completed on the underground infrastructure for Florida Power & Light (FPL), Comcast, AT&T and water service. Part of the process includes updated electrical and plumbing for some of the neighbors, which is necessary to match the newly installed infrastructure. Overhead utilities, which are currently traversing the property, are scheduled to come down shortly. Within a month after the overhead utilities are taken underground, and with the final approval from the City of Coral Gables Building Division, heavy equipment will move in to start laying the groundwork and foundation. A camera has been installed, which will provide video of the progress at the building site and will be available online as activity begins.
Sales of residences at Merrick Manor have reached the 53% mark, and are expected to climb swiftly as the building moves towards completion. Construction of new residences in Coral Gables is extremely limited, and Merrick Manor is proud to be providing the expansion of exceptional living spaces at such an alluring location. Within seconds of fine dining and shopping at The Shops at Merrick Park and Miracle Mile, residents will enjoy an oasis in the middle of it all. For more information, please contact the Merrick Manor Sales Gallery at (305) 779-6870 or visit http://www.merrick-manor.com.
About The Astor Companies
The Astor Companies is a privately held real estate development firm based in Miami, Florida with experience in all facets of the industry, including the development, construction, leasing and management of multifamily properties. With an eye for detail, Astor incorporates exceptional architecture, interiors, and amenities into each of its projects. Led by Henry Torres, the company has successfully delivered numerous residential developments throughout South Florida valued at more than $300 million, including Brickell Vista, Nordica, Gateway to the Grove, and Valencia. For more information, visit http://www.astorcompanies.com.