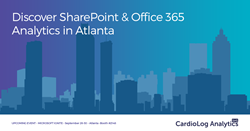 Boston, MA (PRWEB) September 13, 2016
CardioLog Analytics, the leading analytics solution for Office 365, SharePoint and Social, is excited to announce they're heading to Atlanta, Georgia for the highly anticipated , Microsoft Ignite. The largest Microsoft event of the year will take place at the Georgia World Congress Center from Monday September 26th to Friday September 30th 2016.
The team is excited to visit the city of Atlanta and to learn about all the latest advances for SharePoint, Office 365, Azure, Dynamics CRM, Yammer, Power BI and more. The best and brightest minds will come together to discuss the latest advances in cloud technology and all things relating to Microsoft. Attendees will leave the event with fresh ideas, practical tactics and strategic roadmap insights.
The CardioLog team will be showcasing both their On-Premises and SaaS based solutions at booth #2148. They'll be highlighting a set of special reports they've created to assist organizations in improving adoption, boosting engagement, increasing collaboration, easing migration, optimizing portal resources and enhancing portal usability. The team will also be raffling off 5 GoPro cameras throughout the week at the booth.
The team will also be hosting the second part of their Microsoft Ignite Webinar Series on Wednesday September 21st, to show how analytics can be used to ease a SharePoint/Office 365 Migration. To register for the webinar, click here.
About CardioLog Analyics
CardioLog Analytics has been a leader in the field of SharePoint analytics since 2005. CardioLog Analytics is a premier solution specifically designed for SharePoint, and the only on premise SharePoint Analytics solution for enterprises and governments. CardioLog Analytics enables organizations to improve intranet usability, drive portal collaboration, boost user engagement, and enhance overall business productivity. The solution is available as an On-Premises or SaaS solution based on Power BI, with the ability to track SharePoint Online (Office 365), SharePoint 2016, 2013, 2010, 2007, Yammer and Sitrion. The solution can also accommodate Microsoft Dynamics CRM, SalesForce, and other third party platforms.