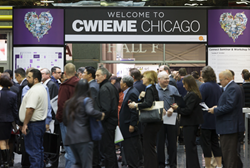 (PRWEB) September 13, 2016
On October 4-6, CWIEME Chicago returns for three days of lively discussions and timely gatherings that will foster buying, selling, networking and knowledge sharing within the electric motor, generator and transformer manufacturing communities.
The event, again held at the Donald E. Stevens Convention Center in Rosemont, Illinois, has been expanded from two to three days to better serve its growing number or participants and address trending issues in the electrical manufacturing industry.
The move is in response to both visitor and exhibitor demand, backed by a steady increase in participation figures over the last few years. In 2015, the show saw a 10 percent rise in total attendance with a 24 percent increase in OEM representation. This growth shows no sign of slowing in 2016.
"The level of interaction was astounding last year between both the exhibitors and customers," said Hank Pennington, president of Essex Brownell, supplier of wire, cable, insulation and other components to the motor repair, OEM and electronics markets. "We've seen CWIEME Chicago grow over the years and are very excited about the momentum this year. We plan to get a bigger booth to keep this momentum going!"
To make it even quicker and easier for visitors to discover new products and initiate new services in 2016, CWIEME Chicago will gather all new exhibitors together in a dedicated area. This year's new exhibitors supply everything from electrical steels, permanent magnets, laminations, and insulating oils, to wires, cables, winding machines, and welding equipment. We also see the return of the Machinery Demo Zone, where attendees can witness all the latest technology and equipment in action.
Outstanding educational content
Like all previous editions, CWIEME Chicago 2016 will not only be an occasion to buy and sell, but to keep up to date with all the latest market and technical developments. The CWIEME Connect Theatre will host a free-to-attend program of seminars focusing on three key themes – balancing performance with cost in light of energy performance standards and regulations; trends and opportunities within the realm of hybrid and electric vehicle technology; and access to critical materials. Star speakers will include Dr. Konstantinos Laskaris, principal motor designer at Tesla Motors; Ben Ehmcke, president of Ehmcke Consulting and managing editor of The Impact Paper; Dr. Bruno Lequesne, founder of E-Motors Consulting and IEEE fellow; James Hendershot, president of Motorsolver and lifetime IEEE fellow; Dan Ionel, professor of Electrical Engineering at the University of Kentucky; and Dan Jones, acting chief engineer at Revolution Motor Industries.
"We might not be in a golden age of American manufacturing anymore, but we're seeing a definite tendency towards re-shoring in the United States, which bodes well for the future of the CWIEME community," says Haf Cennydd, portfolio director for the CWIEME exhibition series. "Many of our visitors and exhibitors at CWIEME Chicago are finding that for mid-to-low volume, higher complexity products, it makes sense to manufacture in the United States. With its long-standing heritage in the industrial heart of America and strong brand values, CWIEME Chicago is committed to spreading the knowledge and facilitating the connections that will help bring American manufacturing back home."
CWIEME Chicago – North America's most comprehensive showcase for the coil winding and electro-magnetic industry
Dates and opening times:
Tuesday October 4, 2016 – 10 a.m. to 5 p.m.
Wednesday October 5, 2016 – 10 a.m. to 5 p.m.
Thursday October 6, 2016 – 10 a.m. to 3 p.m.
Venue: Donald E. Stephens Convention Center, Rosemont, Illinois
Admission: Free until Friday September 30, after which an onsite registration fee of $40 will apply for those who have not already registered online.
For more information and to register for the event, please visit http://www.coilwindingexpo.com/chicago