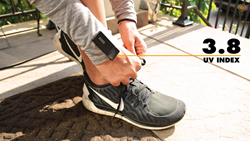 "With Sunclipse, we are giving people the tools to track and learn about their UV exposure in a simple, intuitive way."
Chicago, IL (PRWEB) September 14, 2016
Sunclipse announces the release of their Sunclipse Shadow Kickstarter campaign, aiming to raise funds to bring the innovative wearable UV monitoring sensor to the market.
The Sunclipse Shadow is a sleek bit of wearable tech designed to monitor the day's UV levels and alert the wearer when he or she is at risk for overexposure.
"People are becoming more aware of the damage caused by the sun, but they don't have the tools or knowledge to properly protect themselves, or their children, from the sun," said Sunclipse founder Nikola Zistakis. "With Sunclipse, we are giving people the tools to track and learn about their UV exposure in a simple, intuitive way."
The small, programmable device clips onto shirts, strollers, bathing suits, and more, and then syncs with an intuitive app, which is programmed with a user skin profile that is unique to each user.
"Whether someone is basking in the sun, hiking through the woods, or riding a wave, the app will crunch the data and let users know when to reapply sunscreen or get out of those harmful rays," said Zistakis.
Other features include tracking how long users have been in the sun, access to their history of UV exposure over time, giving recommendations on sunscreen SPF based on the day's activities, and estimating the current "clear sky" UV index.
"Not only is this a versatile tool for those who love the outdoors, but it's also an invaluable asset for parents and vacationers who want to keep themselves and their kids from getting sunburned," said Zistakis.
The Sunclipse Kickstarter campaign is focused on raising funds to bring the Sunclipse Shadow to market. Early backers will receive discounted pricing on their own Sunclipse Shadow and additional promotions, including a branded Bella+Canvas tri-blend V-neck, depending on their contribution level.
For additional information, please visit http://www.sunclip.se or contact brooke(at)veteranpr(dot)com
###
About Sunclipse:
Nikola Zistakis was inspired to create Sunclipse as a way to help other athletes, outdoorsmen, families and more manage their sun exposure and prevent skin-damaging sunburns before they happen. Their flagship product is only now making its debut, but has already garnered tremendous interest through its sponsorship of Techweek Chicago 2016.
.