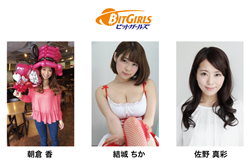 Now Japanese Girl Group Go ICO
Osaka, Japan (PRWEB) September 14, 2016
Japanese cryptocurrency enthusiasts will take to the TV landscape by storm come October 2016. BitGirls, a new TV show airing on Tokyo MX TV, will feature a strong cryptocurrency-inspired angle. The project also includes a crowd sale, which will be held on the Japanese Zaif exchange.
The BitGirls Concept Will Change Japanese TV For Good
All of the participating BitGirls will hold voting campaigns throughout the television show season. Torekabu-nushi (Trading-share-card holders) receive these tokens for every campaign, and they can use them to cast their votes. These voting results will directly influence the content of future episodes. Options among voting proposals include things like putting on a different costumes, or changing the standing position of each individual girl. Episodes will be broadcasted on a weekly basis.
An international broadcast of BitGirls will be available as well, as the organizers are looking to broadcast all episodes on the Internet. They will even provide closed captions in English and Chinese. In doing so, the BitGirls concept will get an international appeal, which will attract more investors from all over the world.
Three girls have been confirmed for the first season of BitGirls so far. Kaori, Chika, and Masa will all participate, with more girls to be added in the coming weeks. The TV show hosts have yet to be determined, as they will need to provide a certain synergy to make this show a success. This project will bring a lot of Japanese mainstream attention to the world of cryptocurrency, which is invaluable.
Interested parties can check out the first test voting campaign for BitGirls. For this vote users can cast their vote by using Bitcoin instead voting tokens. The winner will have a dedicated segment on the show for thirty seconds. During this time, she can appeal to all Torekabu-nushi watching the episode.
Getting Involved In The BitGirls ICO
The results of each participant will be compared, and officials will keep a market cap score for every token issued. Everyone who invests in the BitGirls ICO during the month of October will receive tokens at a discounted rate. Shareholders of these tokens will be eligible to trade them on the Zaif exchange come November 2016.
Takao Asayama, CEO of Tech Bureau, stated:
"We are developing a super high-tech private-chain software named mijin, but at the same time, even if it sounds a bit stupid, I would like to encourage Japanese people to enter the crypto world by making a reason to buy cryptocurrencies with this very Japanese style of entertainment."
Bitcoin exchange Zaif will launch the BitGirls ICO on October 3, 2016. Every girl who participates in this TV show will start a pre-sale of their own personal tokens. These tokens, also known as Torekabu, will be sold in limited quantities. Additional tokens will be available for purchase after the weekly episode has aired.
Every Torekabu Token can be traded against Bitcoin, XEM(NEM), and ZAIF Counterparty tokens. This gives every token an intrinsic value, which will be determined by the free market. Instead of issuing a dividend related to these tokens, investors will receive voting rights, called "hyou". Obtaining more Torekabu means the holder will have more voting rights.
The Technical Side of The Medallion
None of this would be possible without the use of blockchain technology. By using a distributed ledger, all of the voting related to BitGirls will be conducted in a public and transparent manner. No one will be able to modify the results. All tokens are issued on Counterparty, and Bitcoin, ZAIF, and XEM tokens will be accepted during the crowdsale.
The BitGirls project is not just aimed at the Japanese market. Tech Bureau has made the Zaif exchange appealing to users from all over the world. Anyone in the world can participate in the BitGirls ICO. Volunteers who aid in localization efforts will receive Torekabu in exchange for their efforts.
See BitGirls ICO website for more details: http://techbureau.jp/287.html