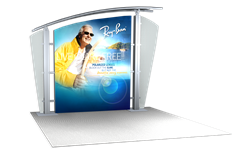 "Backlighting really increases visibility on the trade show floor, and the fabric graphics offer a number of benefits to exhibitors," says Christina Moore.
Dallas, Texas (PRWEB) September 14, 2016
The Trade Group recently launched a new line of light box displays Powered by LUMIO(TM) Technology. Concurrently, the exhibit house's design team began integrating the same LUMIO LED lighting technology into its existing line of Metalli modular trade show displays.
As one of the most popular designs in the Metalli line, it made sense to update the Ferro series first. Exhibitors favor its unique, curved walls and aluminum canopy, pendant lighting and the option to elevate graphics in the island configuration.
According to Senior Product Designer Christina Moore, "While we are incorporating light boxes into many of our new exhibit designs, we also want to offer this option to existing customers. Backlighting really increases visibility on the trade show floor, and the fabric graphics offer a number of benefits to exhibitors."
Unlike rigid graphics, which need to be braced by additional framing, the light box only requires a lightweight, aluminum, perimeter frame. The fabric murals are pulled tightly over the frame, with no added support needed. The light boxes are also easier to set up and weigh considerably less – so exhibitors can save time and shipping costs.
The Ferro series comes in three configurations – 10'x10', 10'x20', 20'x20' – and offers a great deal of flexibility.
"We have clients who start with a 10'x10' and build on to it as their needs change. You can also break the larger configurations into separate displays. So, if you have two shows on the same weekend, you're covered," Moore says.
Multiple light boxes are used in the larger configurations, so exhibitors have 360-degree graphic visibility.
In addition, the Ferro series also offers more features than standalone light box displays. As Moore explains, "With the Ferro series you get a true, modular trade show display with side supports, framing and 120 mm vertical uprights. So if you want to mount monitors or counters on the Ferro, the structure can easily support the added weight."
One of Moore's other favorite options in the Ferro line is the ability to include large, raised graphics without the hassle or expense of rigging. "In the 20'x20' island configuration, we can raise the backlit, fabric graphics above the booth space. This not only extends the visibility of the graphics further, it can free up space for a spanning counter, semi-private meeting area and demo stations, while still maintaining an open feel," says Moore.
Now through Nov. 30, 2016, The Trade Group is also offering a 10% discount on light box retrofits to existing customers who own a Ferro display or any of the other Metalli kits.
To learn more about the Ferro series of modular trade show displays, offered exclusively by The Trade Group, call 800-343-2005.