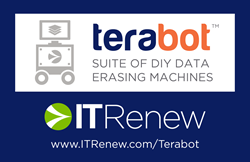 Erasing data onsite is the best, most auditable form of data security, but for many companies it has become an impractical reality. Terabot addresses the time, cost and security equation of erasing data onsite, in-house.
Newark, California (PRWEB) September 14, 2016
ITRenew, an industry leader in IT asset disposition (ITAD) services and data sanitization software, today announced the release of Terabot™, a line of do-it-yourself data erasing machines that are powered by ITRenew's enterprise-grade Teraware data sanitization and asset management software. These self-contained data erasing products provide IT departments the internal means to sanitize data from nearly any type of IT asset onsite.
"Erasing data onsite is the best, most auditable form of data security, but for many companies it has become an impractical reality," said Aidin Aghamiri, vice president of corporate strategy at ITRenew. "ITRenew solved that problem with Teraware and our onsite services. Now with Terabot, we've taken it one step further by putting the power to erase in the hands of the customer, providing both the software and the hardware utility to do it themselves, wherever or whenever it makes sense to."
Terabot comes in a variety of products for different applications. Each is configurable based on the type of assets, sizes and volume of drives, and the capacity of data. The initial product line includes:

Break-Fix Terabot. Specifically configured for erasing loose hard drives. It can be optimized for volumes of homogenous drives or for any array of types and sizes.
Mass Decom Terabot. Designed for data center and large IT campus environments to simultaneously erase an infinite number of hard drives in-cabinet.
All-in-One Terabot. A mobile, ultra-flexible unit that can be used to erase anything from single drives to entire racks of data center servers.
Terabots can be built in half rack or full rack configuration and equipped with a crushing system to destroy hard drives that cannot be erased – on the spot, providing closed-loop accountability. A Certificate of Sanitization (CoS) is provided for each drive erased; a Certificate of Destruction (CoD) for every drive destroyed. However, according to Matt Mickelson, director of product management at ITRenew, the latter is rare.
"Teraware has an industry-best 95-plus percent erasure success rate, including failed drives that have been pulled from production," said Mickelson. "On straight decommission jobs, we consistently see rates of 99-plus percent. With sector-level verification of erasure of every fragment of data, the customer gets the very best data security but also preserves the drive for resale, reuse or return for RMA credit, a huge financial consideration for larger IT enterprises."
Because every Terabot is powered by Teraware software, they come with enhanced functionality, including:
Discovery and reconciliation. Teraware will discover serialized assets and reconcile against an inventory list. This built-in checks and balances feature ensures that all assets are accounted for before leaving a facility, preventing breach remediation.
Erasure signature. Teraware will write an encrypted, random signature to the drive that certifies its sanitization, which can then be verified when received at an ITRenew facility and eliminate the need for redundant erasure.
Remote management. Erasure jobs can be created and managed remotely, allowing administrators to control the sanitization process from any location.
Asset management. Teraware discovers complete hardware configurations including the make and model, processor, memory and the number, type and size of all hard drives, which can be uploaded to asset management repositories along with the CoS or CoD for full auditability.
According to Aghamiri, Terabot was designed with ITRenew's corporate customers in mind, but is also useful for government entities, IT service providers, electronics manufacturers and retailers or any business that handles data-bearing equipment.
"All companies have piles of old equipment tucked away. Every data center has loose drives collecting in cages," said Aghamiri. "It's because there hasn't been a practical onsite solution. Companies will often wait until the pile is substantial enough to justify bringing a vendor onsite. But all the while data is at risk, equipment is depreciating in value and hard drives under warranty often expire and the RMA credit opportunity is lost. Terabot addresses the time, cost and security equation of erasing data onsite, in-house."
ITRenew will demonstrate Terabot in Booth #107 at the Gartner IT Financial, Procurement & Asset Management Summit, Sept. 19-21 in Grapevine Texas. For more information on Terabot, please visit http://www.ITRenew.com/Terabot.
About ITRenew
Headquartered in the heart of Silicon Valley, ITRenew has pioneered a revolutionary software-driven approach to ITAD that streamlines traditional processes while delivering superior financial returns and security for enterprise data. ITRenew was the first ITAD service provider to develop its own proprietary data sanitization platform, Teraware, which has been recognized by Gartner as a competitive differentiator. Teraware is the only software to be certified to erase solid-state drives (SSDs) at a forensic level. ITRenew specializes in complete lifecycle management for enterprise IT, mobile and data center equipment, processing millions of IT assets through a global network of company-owned facilities that are 100 percent dedicated to ITAD services. To learn more, visit http://www.ITRenew.com.