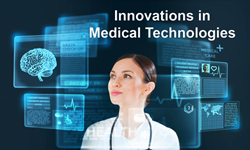 Today, medical discoveries are being made every second...
(PRWEB) September 16, 2016
DMG Productions announces the upcoming airing of Innovations with Ed Begley, Jr., scheduled to broadcast on Tuesday, September 20, 2016 at 7:30aET/7:30aPT via Discovery Channel.
The episode will explore SUDOSCAN, recently developed by Impeto Medical. Audiences will learn how this non-invasive 3-minute test checks the function of nerves through the sweat glands, and allows the doctor to monitor the health of these nerves to better personalize and target a patient's treatment plan.
Viewers will also learn how AsedaSciences utilizes flow cytometry to produce robust, multiplexed, cell-based screens that identify the physiological effect of target compounds on human cells. The segment will also uncover how through it provides the global pharmaceutical industry with real time toxicity risk assessment earlier in the R&D process.
In addition, we will see how Koning Company captures imaging on the entire breast in 10 seconds uing the Koning Breast CT technology. Viewers will be educated on the system, which provides full 3D isotropic resolution at a radiation exposure within the range of a diagnostic mammogram, without breast compression
Traveling to Humber River Hospital in Toronto, Ontario, the show will focus on Plan Group's innovative smart design-build solutions. As showcased at Humber, North America's first fully digital hospital, spectators will learn how Plan Group leverages and integrates deep expertise, experience, ingenuity and foresight to master sustainable design-build projects of every size and complexity.
"Today, medical discoveries are being made every second. We are excited to be a part in watching this exploration unravel," said Michele Nehls, Producer for the Innovations TV series.
About Innovations & DMG Productions:
Innovations, hosted by award winning actor Ed Begley, Jr., is an information-based series geared toward educating the public on the latest breakthroughs in all areas of society. Featuring practical solutions and important issues facing consumers and professionals alike, Innovations focuses on cutting-edge advancements in everything from health and wellness to global business, renewable energy, and more.
DMG Productions (responsible for creating the Innovations show) includes personnel specialized in various fields from agriculture to medicine, independent films to regional news and more. Our field producers work closely with experts in the field to develop stories. This powerful force enables us to consistently produce commercial-free, educational programming that both viewers and networks depend on.
For more information visit: http://www.InnovationsTelevision.com or contact Michele Nehls at: (866) 496-4065 x 822 or via email at: Michele(at)innovationstelevision(dot)com.