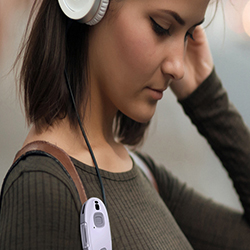 Occly is a wearable personal safety device specifically designed to be a visual deterrent.
Chicago, IL (PRWEB) September 14, 2016
Violent crime continues to be an increasing issue nationwide, threatening the personal safety of every individual. In the FBI's latest crime statistics report, violent crimes alone account for 1.1 million cases annually. Everyone from the vulnerable college student, to the evening jogger, to the traveling professional is in need of an extra layer of protection. Here to provide just that is Occly, the wearable safety device offering the most comprehensive, multifunctional protection available. With Occly, wearers move throughout their day with the comfort of elevated personal safety.
Occly is a wearable personal safety device specifically designed to be a visual deterrent. It can be worn on the body or clipped to an accessory. Occly is armed with an alarm button, four cameras providing near 360 degree coverage, sirens, a microphone, LED lighting, Bluetooth capabilities, and a number of automatic alarm sensors. When Occly alarms, it triggers sirens and lights alerting people in the immediate area, simultaneously recording images and audio around you. All relevant information, including images recorded before and during the alarm, are sent in real-time to a 24-hour emergency response center. During the alarm, Occly's trained staff assesses the situation by reviewing the images and audio recordings. At the same time, the staff contacts and provides assistance to the customer, and dispatches local authorities to the emergency location.
Occly is a safety solution designed for both in and out of the home. The motion detection feature can be used as a home, apartment, or hotel room security solution. Occly's mobile app includes peer-to-peer community features, such as CrowdHelp™ and CrowdWise™. These features alert the user of high crime areas and provide distress notifications of nearby Occly user alarms. These features also allow users to help fight crime by anonymously marking areas of suspicious activity or crime. This helps other Occly users stay informed of their community.
About Occly
Headquartered in Chicago, IL, Occly was founded with one mission: to provide the single most complete wearable safety solution on the go or at home. Currently Occly is offering a pre-order discount for early adopters through their website. Shipping of the product is planned for January 2017. Together the Occly team hopes to build a safer and more secure world.
To find out more information or pre-order your own Occly now, visit http://www.occly.com
Follow us on social media:
Facebook: https://www.facebook.com/occlywear
Twitter: https://twitter.com/Occlywear
LinkedIn: https://www.linkedin.com/company/occly-llc