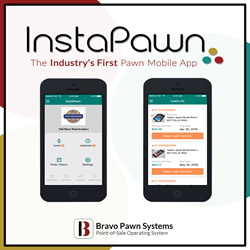 InstaPawn helps make us more "user friendly" and retail present than ever before.
Las Vegas, NV (PRWEB) September 14, 2016
With competition and government regulations bearing down on pawn shop operators of all sizes, Bravo Pawn Systems releases InstaPawn to assist pawnbrokers in elevating their customer service by providing the first ever pawn mobile app in the industry. Pawnbrokers are facing decreased door swings, decreased sales, and an increasing demand toward convenience from customers. With InstaPawn, customers now have access to their favorite pawn shop at their fingertips through their mobile devices in a downloadable app available for both iOS and Android.
The InstaPawn consumer-facing mobile app contains robust functionality and features that pawn shop customers love. From push notifications to reminding a customer that a loan is due to the ability of making payments from their mobile device, InstaPawn provides tools for pawn customers to drastically increase their overall satisfaction and pawn shop experience. Other features include the ability for customers to shop a pawn shop's store 24/7 and a virtual loan counter, developed to increase loan transactions and balances.
Pawn shop operators have expressed immediate impact upon implementation of InstaPawn in their stores, including more layaway payments, diminished loan delinquencies, lower in-store call volume for balance information, immediate app downloads at the loan counter, and huge excitement from customers for the added convenience and accessibility that InstaPawn provides. Not only will the app provide a value-added service to complement a store's branding but it will also provide efficiencies for both the consumer and the store operations.
Mark Johnson, Director of Consumer Lending at TNT Pawn in Phoneix, Arizona, says, "I have been a pawnbroker for more than 30 years and in that time have seen technology evolve "all around us" but no one has ever created an interface that would give our pawn customers the same mobile App advantages that other retailers and banks provide their customers - until now. Finally it's here! InstaPawn is an App that allows our customers to see their loans and layaways from their smart phone. Making payments from home or on the go is now just an App click away. In addition to letting them shop my inventory on line, I can now provide my customers with an easy and convenient way to manage their layaways and loans remotely. InstaPawn helps make us more "user friendly" and retail present than ever before – Thank you to the Bravo Team for making this happen!"
InstaPawn is available for Bravo users and integrates seamlessly with the Bravo Pawn Systems platform. Some key integration features include automatic printing of pawn tickets and receipts to an in-store workstation, in-depth reporting that represents and analyzes InstaPawn transactions, synchronization of online inventory to the app's store, and SMS activation with a click of a button from the customer screen.
Now is the time for pawn shop operators to go mobile! Bring convenience to the consumer, increase customer satisfaction scores, and witness explosive business growth with InstaPawn – an exclusive and ground breaking mobile app provided by Bravo Pawn Systems.
About Bravo Pawn Systems:
Bravo Pawn Systems believes in the success of the pawn industry and strives to see pawnshops grow and compete with the national big box stores. Developed by a 4th generation pawnbroker specifically for pawnbrokers, Bravo helps companies find solutions to challenges they face with day-to-day operations.