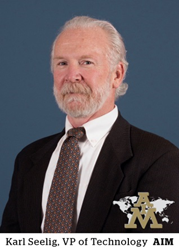 Cranston, RI USA (PRWEB) September 21, 2016
AIM Solder, a leading global manufacturer of solder assembly materials for the electronics industry, is pleased to announce that Karl Seelig, V.P. of Technology, will present at the SMTA Guadalajara Expo & Tech Forum, scheduled to take place October 5th – 6th, 2016 at the RIU Hotel Guadalajara in Guadalajara, Mexico.
Seelig's presentation on AIM's latest white paper, titled "The Impact of Reduced Solder Alloy Powder Size on Solder Paste Print Performance," will take place in "Sala A" at technical forum from 4:00 PM – 5:00 PM. This presentation will highlight the use of finer metal powder into solder paste to facilitate ultra-fine pitch printing. The study was conducted to evaluate the benefits derived from smaller particle size and identify possible negative implications.
With over 30 years of industry experience, Karl Seelig has written and presented numerous technical papers on topics including lead-free electronics assembly, no-clean flux technology, assembly & process optimization, inspection, and metallurgical studies. Mr. Seelig serves as the Chairman of the IPC Solder Products Value Council and has been involved in the development of material specifications under IPC. He has also received numerous patents in soldering technology, including four lead-free solder alloys.
About AIM
Headquartered in Montreal, Canada, AIM Solder is a leading global manufacturer of assembly materials for the electronics industry with manufacturing, distribution and support facilities located throughout the world. AIM produces advanced solder products such as solder paste, liquid flux, cored wire, bar solder, epoxies, lead-free and halogen-free solder products, preforms, and specialty alloys such as indium and gold for a broad range of industries. A recipient of many prestigious SMT industry awards, AIM is strongly committed to innovative research and development of product and process improvement as well as providing customers with superior technical support, service and training. For more information about AIM, visit http://www.aimsolder.com.
Upcoming Events:
October 26, 2016 – SMTA Long Island – Hauppauge, NY
November 3, 2016 – SMTA New England – Worcester, MA
November 17, 2016 – SMTA Space Coast - Melbourne, FL