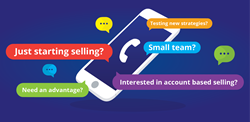 Troy, New York (PRWEB) September 15, 2016
Starting in September 2016, ConversationDriver will offer a subscription plan of their sales acceleration system. The Deluxe plan is purchased on an individual basis and is designed use in smaller businesses and startups. The Deluxe plan includes up to 10 hours per month of ConversationDriver's auto-dialing service. Instead of sales representatives making 80 dials in one day, the Deluxe plan lets users make 80 dials or more in just one hour.
Along with the Deluxe plan, users will also benefit from using Flow-- a system that fully automates the customer and prospect contact flow by combining the delivery of scheduled email campaigns with outbound dialing sessions.
This new Deluxe plan offers light integration of customer relationship management systems (CRM): SalesForce, PipelineDeals, and Close.io. In addition, analytics and reports are available for campaigns which allows users to better track their sales development and overall efficiency.
"Our Deluxe plan really allows individual sales reps to take complete control of their own sales process," Alexander Gutin, CEO and co-founder of ConversationDriver.
For $299 a month, Deluxe plan users can try ConversationDriver completely risk free with a 30 day money back guarantee.
About ConversationDriver
ConversationDriver is a technology startup based in Troy, New York. Combining cloud-based technology with some of the brightest virtual assistants, ConversationDriver's sales acceleration service allows sales teams to spend time speaking with targets, not wasting time with dialing, voicemail or gatekeepers.
For more information about the company and their services, visit http://conversationdriver.com or call 1-888-210-5588.
Media Contact:
Gretchen Fisk (888) 210-5588 ext. 29
@ConvoDriver
###