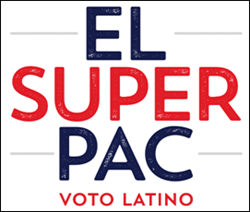 Washington, DC (PRWEB) September 14, 2016
El Super PAC Voto Latino partnered with Priorities USA for the Florida launch of the "What We Stand For" ad campaign. The campaign launched in Nevada last week, and focuses on Donald Trump's dangerous rhetoric and agenda, and emphasizes that his platform misrepresents everything America stands for.
El Super PAC is focused on engaging Latinos in key states, this stage of the campaign will focus on Spanish speaking voters in FL specifically.
"We are living a defining moment in our country. I have dedicated my life's work to uplift and unify Americans of all backgrounds," states Robert Raben, El Super PAC board member. "Trying to hold back our future by turning Americans against each other is not leadership - but coercive political tactics that cheapen our democracy."
"I've made advocating on behalf of Americans my career, from serving in the military for my country to enfranchising youth and more recently ensuring American Latinos are portrayed justly in media," said Ingrid Duran, El Super PAC board member. "That is why I take exception to the tone of this election that seeks to scapegoat our community. We intend to send a clear message with El Super PAC; American Latinos are proud citizens who contribute and are willing to lose our life for the stars and stripes. We won't tolerate a candidate that tries to make us less."
"This is a crucial election for American Latinos and our allies where we must band together against divisive politics. It is not who we are," Maria Teresa, President of El Super Pac said.
"What We Stand For" will run in Nevada, Colorado and Florida, and is the first spot in a previously announced partnership with Priorities USA.
About El Super Pac
El Super PAC Voto Latino was developed with the explicit purpose of combating harmful rhetoric that divides Americans. This election cycle, with the level of racism and bigotry shared by candidates, we felt we needed to take the gloves off and start a Super PAC. Our hope is that, once and for all, candidates and political parties will realize they cannot mistreat the Latino community and not face the consequences.