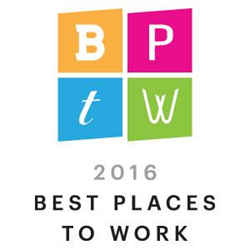 "Being recognized by our employees as one of the best places to work in Houston for a fourth year is more than just an honor," said Ryan Lakin, President of IronEdge Group.
Houston, Texas (PRWEB) September 15, 2016
For the 4th consecutive year, IronEdge Group has been named by the Houston Business Journal as one of the finalists in their annual ranking of the Best Places to work in the Houston area. Final rankings for the 2016 Best Places to Work list will be revealed during a luncheon hosted by the HBJ at the Hilton Americas Hotel on October 12th. The official rankings will be published on October 14th in a special section of the Houston Business Journal.
Finalists are chosen from a large pool of nominated business within the Houston, Texas area. The selection criteria is based on the results of an anonymous, 3rd party survey of their employees. Each nominee receives a score of up to 100 based on the responses of their employees. Topics of evaluation include goals and leadership, communication and support, advancement opportunity and skill development, recognition and compensation, tolerance and flexibility, and embracing innovation and ideas. Employee responses to these surveys were 100% anonymous to ensure the most unbiased rankings of nominees.
Once the business has received their survey score, the results are examined by the Houston Business Journal and the final list of the best places to work in Houston are announced. Businesses named as the top places to work will be spotlighted by the Houston Business Journal in an honorary section that examines what companies ranked on the list do to attract, value, retain and inspire employees.
"Being recognized by our employees as one of the best places to work in Houston for a fourth year is more than just an honor," said Ryan Lakin, President of IronEdge Group. "We are passionate about our employee experience each and every day because happy and engaged team members directly result in delighted clients."
About IronEdge Group
IronEdge Group provides Texas-based organizations and their locations around the globe with enterprise-class IT solutions. From consulting to co-managing client environments, IEG provides concierge level end user experience and powerful data driven decision making tools to the business. From desktops to data centers, the firm provides a level of secure and efficient service clients rave about. IronEdge Group was recently named to CRN Magazine 2016 Managed Service Provider 500 list and voted Best Places to Work by the Houston Business Journal for the fourth consecutive year. Contact them at 1-800-987-4766 or http://www.ironedgegroup.com