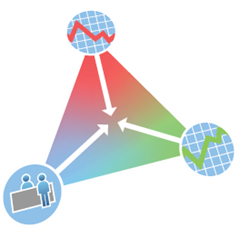 Retail banks need to balance the trade-offs between customer experience, revenue growth, and operational efficiency.
San Diego, CA (PRWEB) September 14, 2016
Kiran Analytics - a leader in intelligent branch transformation – announced today that its executives, along with retail banking distribution and workforce optimization experts, will share actionable branch transformation insights at two upcoming industry events. BAI Beacon 2016, the premier event of the BAI, will be held on October 5-6 in Chicago, IL. Banking Analytics 2016, the premier analytics symposium of American Banker, will be held on October 20-21 in New Orleans, LA.
BAI Beacon Presentation on October 5th: Using the Branch Footprint as an Advantage for Geographical Workforce Optimization
Speakers:
Jackie Hudson, Senior Vice President of Retail Banking Solutions and Product Strategy, Kiran Analytics
Amy Bullock, Senior Vice President of Branch Banking Workforce Management, SunTrust Bank
Ben Hopper, Vice President of Retail Strategy, First Tennessee Bank
Branches are far from obsolete. They are still the primary channel for customer engagement, relationship building, sales and revenue generation, yet the branch network is also expensive. One of the key challenges in managing the branch network is that it is distributed – it has multiple locations and multiple work areas / queues - and as transaction volume continues to decline, it becomes more and more difficult to obtain economies and balance the priorities of gaining further efficiency while growing sales and revenue. This presentation will cover how geographic workforce optimization will enable retail banks to leverage their branch network – a network that is inherently inefficient with many locations and many queues – to grow revenue and improve efficiency.
Banking Analytics 2016 Presentation on October 20th: Optimizing Branch Operating Hours and Staffing Levels with Predictive Analytics
Speakers:
Stephen Griffin, Senior Vice President of Retail Distribution Strategy and Sales/Staffing Analytics, Regions Bank
Abhyuday Desai, Ph.D., Vice President of Analytics, Kiran Analytics
When it comes to optimizing branch operating hours and labor schedules, retail banks are faced with a critical challenge. They need to balance the trade-offs between customer experience, revenue growth and operational efficiency. Banks that simply use daily transaction counts and a one-size-fits-all approach to setting operating hours and staffing levels are likely to end up with too little or too much capacity. Too little capacity means longer wait times, frustrated customers, and missed sales opportunities. Too much capacity translates to excess staffing costs and operational expenses. This presentation will cover how predictive analytics based on branch transaction history, network proximity, customer demographics, and market competition is helping assess the impact of changing branch operating hours on activity volume and staffing requirements.
Kiran Analytics
Kiran Analytics drives intelligent branch transformation for retail banks through the application of predictive analytics. Kiran's solutions have been deployed in over 10,000 branches helping to forecast optimal branch staff levels accurately, hire better people faster, and to plan and schedule resources efficiently. As a result, retail banks increase sales and customer service while reducing operational costs. Kiran Analytics is a member of Bank Administration Institute (BAI), Consumer Bankers Association (CBA), and British Bankers Association (BBA). Kiran Analytics Inc. headquarters is based in San Diego, California and Kiran Analytics Ltd. is based in London.