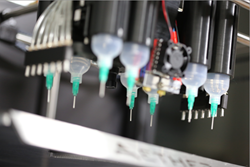 "This is a large-scale bioprinting research collaboration that's unlike anything ever previously attempted."
San Francisco, California (PRWEB) September 14, 2016
Today Aether announced that Aether has entered into an enormous array of 3D bioprinting research collaboration agreements with some of the world's top universities and government-backed institutions.
Each university or institution will receive an Aether 1 Bioprinter beta unit to conduct one or multiple research projects in a tremendously wide range of fields such as biotechnology, chemistry, mechanical engineering, tissue engineering, materials science, nanotechnology, pharmacology, implantable device research, 3D electronics printing, and more.
Aether believes these collaborations may lead to significant breakthroughs in 3D bioprinting research, and will allow Aether to build up a substantial presence in upcoming scientific publications.
The wide-scale usage of Aether 1 Bioprinter beta units by a worldwide network of the top researchers in their respective fields will be an effective way for Aether to enhance and perfect Aether 1's current features, as well as discover and remedy any potential issues. Aether has offered to assist each lab in any way possible to facilitate the successful completion of each research project, including the development of custom features for the printer, which may lead to new features and capabilities for the upcoming Aether 1 general product release.
CEO Ryan Franks said "This is a large-scale bioprinting research collaboration that's unlike anything ever previously attempted. We're honored to be working with such an amazing group of researchers. Before we even had the chance to officially announce that we were seeking beta users, each of these researchers proactively reached out directly to Aether to find out how they could get an Aether 1. We took that as a sign that this group is extremely eager to innovate with the newest and most powerful bioprinting technology, which makes them the perfect choice to be the very first people to gain access to a completely new kind of bioprinting tool. It's also an excellent sign that there's a lot of pent up demand for a product like this that tremendously advances bioprinting technology for an extremely low cost."
The following will be collaborating with Aether:
UNIVERSITIES
Cambridge University - Department of Engineering
Northwestern University - Department of Materials Science and Engineering
National University of Singapore - Department of Biomedical Engineering/Department of Materials Science and Engineering
McGill University Health Centre - Montreal General Hospital Orthopaedic Research Laboratory
Dayton University - Chemical and Materials Department
University of Minnesota - Bioprinting Facility
McMaster University - Department of Mechanical Engineering, under supervision of Professor Ravi Selvaganapathy
Tuft's University - Computer and Electrical Engineering Department
University of South Australia - School of Pharmacy and Medical Sciences
Indiana University Purdue University of Indianapolis - School of Informatics
University of Washington - UW/Harborview Medical Center Orthopaedics Department
University of Waterloo - Biomedical Engineering Program/Systems Design Engineering
GOVERNMENT-BACKED INSTITUTIONS
Swiss Center for Electronics and Microtechnology ("CSEM"). CSEM is a public-private partnership between the Swiss government and private industry. CSEM is a research and development center specializing in microtechnology, nanotechnology, microelectronics, system engineering, photovoltaics and communications technologies. Aether 1 will be used by CSEM to conduct research projects as well as being displayed and demonstrated for CSEM's industrial partners.
Embrapa Genetic Resources and Biotechnology ("Embrapa") - Laboratory of Nanobiotechnology ("LNANO"). Embrapa is a state-owned research corporation affiliated with the Brazilian Ministry of Agriculture. Embrapa has nearly 10,000 employees. The brilliant nanobiotechnology researcher Dr. Luciano Silva and his team at LNANO will be collaborating extensively with Aether to conduct twenty (20) research projects with expected timelines ranging from several months to several years. These projects will largely focus on nanotechnology but also span several widely varying fields.
DONATIONS
National Museum of New Zealand Te Papa Tongarewa - Learning Lab. An Aether 1 beta unit will be donated to the The National Museum of New Zealand Te Papa Tongarewa. National Museum of New Zealand Te Papa Tongarewa is New Zealand's national museum and art gallery, and receives an average of over 1.5 million visitors per year. Aether 1 will be used as a method to teach students about 3D printing technology.
Range of Motion Project ("ROMP"). ROMP is a fantastic non-profit organization working to ensure people in Latin America who need prosthetics, but lack the financial resources to afford them, are able to get the prosthetics they need. Aether 1 will be used to improve processes, allow new capabilities, and cut costs for 3D printed prosthetics. Aether may potentially be featured as an in-kind sponsor when ROMP appears in several upcoming documentary videos by Legendary Pictures, GoPro Films, and the US State Department.
A NEW HOPE FOR THE FUTURE OF BIOPRINTING
These collaborations will mark the beginning of the downfall of the overpriced and underpowered bioprinting technology that dominates the current market. The coming new age of highly powerful and affordable 3D bioprinting will bring massive benefits to mankind. Incredible achievements such as eliminating the need for animal testing, ending donor organ shortages, extending human lifespan, and the improvement of human performance and capabilities through bio technologies may finally be within humanity's grasp.
Now with such a powerful and affordable bioprinter, any researcher with a modest budget can pursue these history-making and world-changing goals.
Aether 1 Bioprinter is the most advanced 3D bioprinter ever created, and Aether will utilize this extensive collaboration as an opportunity to push bioprinting technology even further in order to maximize bioprinting's positive impact.
One of Aether's long-term goals is to use bioprinting as a way to eliminate the need for animal testing. In that spirit, this entire group of innovative laboratories has been conscientious enough to agree to completely avoid live animal testing for these research collaborations.
TIMELINE
Earlier this year, Aether's plan was to send out beta units before the end of summer 2016. These beta units were relatively early in the development process, with less features. Aether has recently decided to make large upgrades and modifications that will make the beta units far more advanced than previously anticipated. While this is a large revision of the prior plan, Aether estimates it will only cause a moderate delay in shipment. Beta units are now expected to ship out autumn 2016, with the final Aether 1 product to be publicly available for sale not long after.
SPECIAL ANNOUNCEMENT - 24 EXTRUDER PRINTHEAD
Aether has previously stated that Aether 1 will allow you to print with up to 10 materials in a single print, far more than any other 3D bioprinter available.
One of the secret upgrades Aether has been working on during beta unit production is a gigantic increase in maximum material capacity.
In addition to the 8 syringe extruders and dual FFF hot-end extruders that come standard with an Aether 1 base unit, Aether 1 can now be optionally outfitted with up to 14 additional droplet jet extruders, raising the total maximum number of extruders to an incredible 24.
Now with Aether 1, users can combine an unheard of 24 materials together in a single print.
Released publicly for the very first time, here are a few early sneak-preview preview photos of Aether 1's beta unit printhead, outfitted with a full 24 extruders. Aether 3D Bioprinter 24 Extruder Preview Photos.
ABOUT AETHER
Aether is a technology start-up located in San Francisco. Aether's first product, Aether 1 Bioprinter, is the world's most advanced 3D bioprinter. Having an estimated cost of $9,000 for an Aether 1 base unit, Aether 1 will also be the most affordable bioprinter available.
Aether 1 is a novel patent-pending system which allows the usage of up to 2 FFF hot-end filament extruders, 8 syringe extruders, and 14 droplet jet extruders, all together in a single print. Aether 1's modular system allows for additional accessories such as UV LED lamp, Laser Engraver, small CNC Drill, Heated Glass Syringe Extruder, Microscope, and more. Critically, Aether 1 has never-before-seen features like Machine Vision based fully Automatic Air Pressure Calibration, fully Automatic Stage-Leveling, sealed anodized aluminum and glass exterior, and new upcoming features which have not yet been announced.
Aether 1 beta units dramatically outperform today's most expensive $250,000+ 3D bioprinters, for a small fraction of the price.