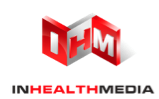 (PRWEB) September 14, 2016
InHealth Media announces Sara Bader as the new Director of Global Communications.
Bader comes with over 10 years of experience as a marketing, branding and communications specialist. Graduating from the Huizenga School of Business' MS in Business Leadership program, her focus on digital marketing and analytical approach to branding and development make her an excellent fit for InHealth Media's modern marketing and public relations philosophy.
InHealth Media, a partner company to Nutritional Products International, believes the best way to ensure its clients receive the highest quality work is to provide the entire branding strategy and media coverage in house. InHealth media provides a full suite of marketing and PR options to its clients. This includes, but is not limited to public relations, brand exposure, product launches, strategy, advertising, marketing, ecommerce, social media, and more.
CEO, Mitch Gould, has revolutionized the sports nutrition and wellness product branding and marketing space. With over 25 years of industry experience, Gould has cultivated unheard of relationships with Wal-Mart USA, Wal-Mart International, Sam's Club, Costco, GNC, Tree of Life, Albertson's, Fred Myer, Amazon.com, Walgreens, CVS, Rite-Aid, K-Mart, 7- Eleven, Target, Miejers, Fred's, USA Sports, Long's, Happy Harry's, Home Depot, Lowes, Menards and many more.
Gould is known for his successful development and launching of celebrity branded products, such as Steven Seagal's Lightning Bolt, Hulk Hogan's -Hogan Energy Supplement, Chuck Liddell Iceman RX. As well as his unique brand of distribution and marketing; providing the services and tools brands need to become a valuable asset to any market.
For more information about IHM visit http://www.inhealthmedia.com.